Auto Paint and Body Work Services That Will Take Your Ride to the Next Level!
When it comes to customizing your car, truck, or SUV, an eye-catching paint job is one the best investments you can make. Whether your project is a classic car restoration, a collision repair, or a brand new sedan, a custom paint job will take your car, truck, or SUV from ordinary to extraordinary!
At Apex Customs we offer full-service automotive body and paint services. From collision repair to a custom builds, our certified expert painters will deliver you showroom quality results which meet and exceed factory specifications.
At our Phoenix auto paint shop, we have a state of the art Blow Therm down draft paint booth designed specifically for high-end custom work. Our Tempe body shop offers four state-of-the-art paint booths paired with a team of auto body and collision repair technicians who are the best in the industry.
Custom Paint
Body Repair & Restoration
Wide Body Kits
Auto Parts Painting
Collision Repair
Unlike our competitors, Apex Customs specializes in custom work and high end builds. We are not an auto paint shop that pumps low-quality paint jobs out for insurance work. We work on the best, the classics, exotics, street rods, show cars, and race cars.  We are a one-stop automotive customization shop that does everything you need to build or restore the ride of your dreams under one roof.​
If you're looking to restore your ride to its former glory, we can source even the hardest parts you need, rebuild and customize your body panels, hoods, doors, and trim and top it off with a killer custom paint job that will last for years to come.  We offer expert auto body shop and car paint shop services for Phoenix, Tempe, Scottsdale, Mesa, Glendale, Gilbert, Chandler and surrounding areas in Arizona. Contact us now for a custom quote!
Custom Paint & Auto Body Services
As a full-service auto body shop, Apex Customs can tackle any project you have for your car, truck, or SUV. From custom builds to aftermarket parts painting and full collision repair, our expert paint and body technicians are ready to tackle any job you bring us. Our Phoenix and Tempe Arizona custom auto body shops were designed with the custom build in mind ensuring your car, truck, or SUV is repaired, prepped, painted, and detailed to the highest standards.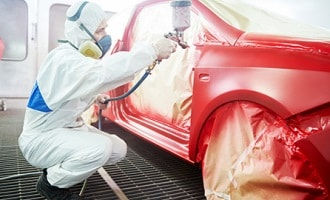 Automotive painting is an art that requires years of experience, a steady hand, and a keen eye for detail. At Apex we specialize in custom paint jobs on exotic and high-end vehicles that require more skill and attention to detail that than the standard auto body repair shop. Our expert painters and technicians have the skill and experience to ensure your car, truck, or SUV will receive the white glove treatment. When working on exotic sports cars, classic car restorations, and custom car builds, we understand the need for perfection.
Auto Body Repair & Restoration
No matter how good the paint job is on your vehicle, if the body panels underneath are not repaired and prepped to the highest standards, the end results will leave you disappointed. Apex Customs understands the importance of perfection when it comes to building, repairing, and restoring every square inch of your vehicle's body. Every project we undertake ensures all rust is removed, body panels and structural components are restored to factory spec, panel gaps are fitted to factory spec, surfaces are sanded to a smooth flawless finish, and proper cleaning and preparation procedures are followed before the vehicle goes into the booth for paint.
Wide-body kits are one of the hottest looks on road these days. Serving both form and function, a wide body kit will take your ride from ordinary to extraordinary! Unfortunately many of the kits available on the market today simply don't look good without the expert touch of a professional paint and body shop. Many body kit manufacturers claim their kits will bolt right up, but more often than not every kit requires some tweaks and repairs to give your car that custom look with a factory fit. The auto body and paint experts at Apex will ensure your investment will look incredible for many years to come!
Do you have an aftermarket part you need prepped, painted, and fitted? At Apex we have the skills and expertise to fit your aftermarket or custom built parts to your car, truck, or SUV ensuring they match your vehicle perfectly. We can modify, color match, and install any part you bring us ensuring the end result is something you will be proud to drive or take to the next car meet. Hoods, spoliers, body kits, trunks, trim, you name it and we can paint it!
At Apex Customs, our Phoenix and Tempe body shops are capable of full collision repair. While we specialize in custom cars, we've completed hundreds of standard insurance claim collision repairs. If your custom or exotic car, truck, or SUV was recently involved in an accident, what better place to have your vehicle repaired than a shop with the capabilities to also to upholstery, vinyl wrap, car audio, engine performance, wheels and tires, suspension, and more! We specialize in aftermarket and custom products so if your vehicle requires a special touch and advanced aftermarket parts expertise then look no further than Apex Customs!
Cheap vs Expensive Automotive Painting
If you're looking for a high-quality paint job that will look fantastic and last for the life of the vehicle, then you may be in for sticker shock. It's important to understand the differences between cheap and expensive paint jobs when you are evaluating your next project and budget. While the $900 Maaco special may be appealing to the pocketbook when you see the final results you're going to regret skimping on such an important aspect of your custom project. ​
Paint is expensive, especially high-quality paint with the latest technology that is designed to survive the demanding environmental and road contaminates as well as the hot Arizona sun. Shops offering low-cost paint jobs typically use an inexpensive synthetic enamel economy paint, typically sourced from China. While economy paint may cover well, create a decent looking base color, and even have an acceptable glossy look, they will only last a few years and are prone to chipping and peeling in a very short amount of time.
At Apex Customs we only use the highest quality paint available on the market. We balance cost with durability, finish, color stability, and environment friendliness. When we spray a car, we ensure it is done right the first time so your investment will last and display its brilliant colors for many years to come.
As the old military adage goes, "Proper Planning and Preparation Prevents Piss Poor Performance". When it comes to automotive paint, preparation is the cornerstone to a final product that will not only look fantastic but will last for many years to come. Paint prep includes many hours of cutting, sanding, priming, and cleaning. A minor imperfection on the body of the car will stick out like a sore thumb once the color has been applied to the surface. Discount paint shops often skimp and take shortcuts on the many hours paint preparation in an effort to move more cars through their shop at a faster rate. Quantity over quality is the business model of a body shop selling you $1,000 paint jobs. This results in a lackluster final product that will leave you disappointed and often require the entire job be redone a year later.
If you've ever spray painted a car part or even painted the wall of your bedroom, you can appreciate the importance of multiple layers of paint. Thin paint layers are prone to color fading, chipping, scratches, and lower color density and luster. A discount paint shop will do a light sanding to rough the surface and then spray one or two color layers followed by a clear coat. A high-quality auto paint shop, on the other hand, will sand the vehicle down to bare metal, correct any blemishes to the bodywork and apply as many as 20 to 24 layers of paint and 6 to 8 layers of clear coat. This approach provides a lasting finish that will provide deep color tones protected by a durable protective finish.
If you've ever spray painted a car part or even painted the wall of your Discount paint shops rarely include key areas of the car when bidding your paint job. The most difficult areas of a vehicle to paint are the door jams, under the hood and trunk lid, under the trim panels, under the factory emblems, and in the engine bay. To paint these areas requires parts be carefully removed and expertly masked off to avoid overspray. These areas are particularly important to mask, prep, sand, and spray if your paint project includes a color change. There is nothing worse than a red car with yellow door jambs!
In an effort to speed up the paint process, discount paint shops often skimp on their masking skills. Proper masking of a vehicle before spraying is critical to prevent paint overspray in areas you don't want paint. Masking is a time-consuming process which requires patience and car to ensure the seams don't fail while in the paint booth. There is nothing worse than ending up with paint overspray in your car's interior or on that 10,000 supercharger!
Today's modern vehicles offer a variety of specialized and metallic colors which require advanced skill and expertise to match. The advanced equipment used for modern paint jobs is expensive and not always accurate. Even if you have a factory paint code, years of sun fading and exposure to the elements will alter the color of the paint the came with your vehicle off the factory line. To properly color match factory and prior custom paint jobs requires years of expertise, panel testing, and an expert eye. Many discount body shops simply don't invest the time and care into ensuring the newly painted panels match your vehicle's existing paint.
At Apex Customs it's important our customers are informed about the process for every service we offer. Whether you bring your ride to us for a professional paint job or are just looking for some tips on how to paint your car in your garage, here is a general overview of the steps involved in the process.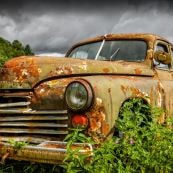 The first step in any automotive paint job is to ensure you have a solid, rust-free foundation to work from. Rust is the process of steel oxidizing which generally occurs with unprotected bare metal is exposed to water. Salt also plays a significant factor in the rusting process. Salty wet roads with quickly turn sheet metal into swiss cheese.
Rust, if not addressed, will eat away at your vehicle's frame and body. The most effective and recommended method of addressing rust is to completely cut it out and replace the removed rusty panels with new sheet metal using various welding techniques. If the rust is not removed, it will cause ugly bubbling under your new paint job.
If the rust is minor, there are some liquid rust inhibitor products that can be used to prevent the rust from spreading. The main ingredient of a rust inhibitor is phosphoric acid which will convert the iron oxide (rust) into iron phosphate effectively stopping the oxidation process.
Straightening the panels is the most time-consuming part of the automotive painting process. While you may be tempted to cut corners and move onto the fun part of painting quicker, don't. Taking the time to ensure every inch of the body is straight and smooth and the gaps between doors, fenders, and hoods will result in a pristine final result that you will admire for years to come. This is the step where you'll eliminate any dents, deep scratches, and uneven surfaces.
While some panels can be straightened with a hammer and dolly, most of the panels on your vehicle will require body filler. Perfecting your body filler application is the most tedious and time-consuming step in the process. It will require spreading body filler, waiting for it to cure, sanding, and repeating the process several times until you have a perfectly straight and smooth surface. While the first couple of layers of body filler can be sanded with a power sander, make sure you move onto hand block sanding for the final layers.
Block Sanding is the most critical step in ensuring straight panels on your car. A block is used in order to distribute your hand's pressure evenly across the panel. If you try to finish sand without a block, you'll end up with finger grooves across the panel. This will result in a wavy panel with peaks and valleys which will leave you with an undesirable final product.
Blocking generally begins with a course sandpaper of around 180-grit in order to knock down the high spots. Follow the 180-grit with progressively finer sandpaper until the panels are smooth and straight. A pro tip is to not look for straightness in your panel, rather feel for straightness with your hand. "If you can feel it, it will shot in the paint".
Now that you've prepped the vehicle with plenty of elbow grease and patience, the next step is to mask and tape off every surface of the car that will get painted. This is another critical step which ensures you don't end up with overspray on your windshield, motor, dashboard, and leather seats!
Before you being masking and taping, make sure to wipe down the entire surface of the car to remove all dust and contaminants that may lead to your masking seams and lines to fail while you're spraying. While you may be tempted to use that old stack of newspapers for masking, spend the few extra dollars to get some legitimate masking paper. Newspaper is porous and will allow paint, especially clearcoats, to bleed through onto the glass and trim underneath.
Another pro tip is to invest in a high-grade masking tape from manufacturers like 3M. Cheap masking tape will allow paint to bleed through and a generally manufactured with a low-grade adhesive which leaves a sticky residue when removed. Cheap masking tape can also be extremely challenging to remove as it is thin and tears easily.
Before moving onto the next step, take the time to ensure that every possible crevice, panel, and glass that you don't want paint on is well covered and secure from overspray.
Now that your rust is removed, panels are straight, and the vehicle is masked off, it's time to prime! A paint primer will protect the metal by sealing the car and its bodywork from the paint above ensuring your paint will have a smooth, consistent surface to bond to. The primer also ensures the different colors of metal, primer, and filler won't cause any color variations in your base color. You want to start with a smooth and consistent color surface before applying your base color. The best primer is a two-part urethane surfacer.
There are two basic categories of automotive paint, single stage and two stage or base/clear. In a single stage paint, all of the paints pigment, additives, and ultraviolet protection are combined into one can and applied to the car. This method is commonly used on budget paint jobs and does work well if you're looking for a quick lower quality paint surface.
A two-stage paint is the preferred method for high-end automotive paint jobs and involved spraying a base color coat followed by a second clear coat. The two-stage paint has distinct advantages such as protecting the underlying color pigment by adding ultraviolet blockers in the clearcoat. Additionally, a two-stage paint application has superior luster. By applying a clear coat over the base coat, the end paint job has a shinier appearance and is thicker making the paint more durable and less prone to rock chips and door dings.
There are two different styles of paint guns used to apply auto paint. One is the classic can-style where the paint is held in a can under the gun. The second is referred to as an HVLP (high volume low pressure). The HVLP use less air pressure which results in less waste and overspray. Regardless of the paint gun style you choose, make sure your air system has a water and oil separator as well as a pressure regulator. There is nothing worse than water condensation entering your airline and ruining your entire paint job requiring you to start all over again from square one!
The actual process of spraying the paint can take some practice. Using a smooth, consistent sweeping motion you want to apply the paint in a manner that avoids high spots and paint runs. An experienced painter will know just how thick to apply the paint, which areas are more prone to fish eyes and runs, and will adjust his technique appropriately. As an inexperienced painter, your first step should be to read the MSDS of your paint to give you a gauge of how the paint was manufactured to be applied. Experience is key to a consistent result and while some incredible DIY auto paint jobs have come out of garages, it's important to remember that patience and practice may be required to get the results you're hoping for.
Professional paint jobs are done in a controlled environment with expensive professional grade equipment and paint booths. Paint booths control the environmental factors from dust and lighting to climate temperature and humidity. As a DIY painter, don't get down on yourself if your results don't come out looking like the pro, it's difficult to match years of experience and a $100,000 paint booth!
Once you've completed the paint application and you've allowed sufficient time for your paint and clear coats to cure, the next step is to finish off the top layer with some 2000 grit wet sanding followed by a solid buff and polish. Expect to spend a good amount of time really bringing out the luster of your paint job by polishing that top layer.
Now that you have your new paint job gleaming like glass, we recommend protecting your new paint job with either a wax compound or even better, a ceramic coating. A ceramic coating such as Ceramic Pro, is a polymer coating that will protect all of your hard work from even the harshest of elements. After you've invested the time in money in a new paint job, it's worth its weight in gold to take this one extra step to protect your investment.
How difficult is it to color match my existing paint?
New cars, trucks, and SUVs come from the factory with a paint code printed on a label which is generally located underneath the hood or in the sill of the door. This code is used to specifically identify the manufacturer color that was used at the factory when the vehicle was made. This code works great if your vehicle matches the original color exactly. However, this code is generally just a starting point as there are often slight variations of color during the manufacturing process and the color of your car is subject to changing slightly over the years.
When your vehicle is not a perfect match to the color code, our paint technicians will perform a process called "tinting". Tinting is basically varying the paint mixture of various color pigments until a match is found. In some cases, tinting is not enough to get a close enough match. In those cases, the paint tech will use a blending technique which entails applying small amounts of the new paint color to the panels around the main area to be painted. Proper blending can make the difference between a great match and an invisible repair.
Obtaining a proper paint match requires a high level of skill and a great deal of patience. At Apex Customs, our technicians are certified by the paint manufacturers to use their advanced computerized paint matching systems.
How long does a custom automotive paint job or body repair take?
Because every vehicle and every project is unique, there is no standard time period for a paint and body project. The length of time is generally dependent upon the extent of any damage, the scope of the project (a hood vs an entire car), if there are any custom aftermarket parts being added, and how many coats of paint you are looking to get. When it comes to complete custom jobs, you should expect your vehicle to be in the shop for an extended period of time.
How much does a custom paint job cost?
The costs involved in custom paint and body projects are entirely depended upon the condition of your vehicle, the type of vehicle, and the scope of the project. While we typically can give some very general pricing estimates over the phone, the best way to get an accurate quote is to bring your vehicle down to our Tempe body shop and have our technicians take a look at the car and discuss your project.
Are you able to do body and paint insurance work?
Apex Customs is fully capable of performing paint and auto body repairs for insurance claims. We have worked with a variety of insurance companies for collision repair. Talk to your insurance agent to verify they will cover our services. If you need any assistance with your insurance agent, don't hesitate to contact us!
Do you offer rental cars?
Yes, Apex Customs has a contract with Enterprise car rental to provide rental cars to our clients. The cost involved is depended upon the size and scope of your project. Generally, for larger projects, we offer a complimentary car rental while we are working on your vehicle. Please contact our sales department for more details.