The Best Vinyl Wrap in the Business
At Apex Customs our certified installers are the best in the business when it comes to the professional installation of an automotive vinyl wrap. We can install vinyl wrap in any application, but our specialty is color change vinyl wraps, racing stripes, vinyl graphics, hood and roof vinyl wraps. Our installers have many years of experience working on everything from Semi Trucks to Ferrari's and Honda Civics. Whatever your vinyl wrap application is, we can deliver your project on time and on budget without complication.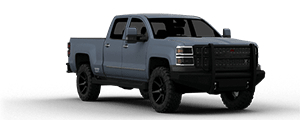 Color Change Vinyl Wrap
Vinyl Racing Stripes
Vinyl Hood Wrap
Vinyl Roof Wrap
Vinyl Graphics
Vinyl Pinstripes
Side Mirror Vinyl Wrap
Vehicle Wraps​
We only install top-rated vinyl wraps by Avery Dennison and 3M Graphics that are sourced directly from our authorized supplier. This helps us ensure that your vinyl wraps warranty will be fully enforced and stood behind the two largest companies in the vinyl wrap industry. It also helps us ensure that your vinyl wrap will look fantastic for many years to come and will hold up to the rigors of nature's elements. We want you to be satisfied with your investment and the most important element of that satisfaction starts with top quality vinyl wrap.
Before vinyl wrapping was introduced to the automotive industry, the only option for changing your car, truck, or SUV to a different color was to invest in an expensive paint job by a professional auto body shop. The re-paint process typically takes weeks, if not months, often degrades the resale value of your vehicle, and will typically cost upwards of $10,000 for a quality professional job.
Are you looking to change the color of your ride? Vinyl wrap is hands down the best option for a vehicle color change. When compared to other options for a vehicle color changes, vinyl wrap is more affordable, durable, and reliable and offers a range of color options that aren't available with any other product.
At Apex Customs Phoenix we specialize in car, truck, and SUV vinyl wraps. Our installers have years of experience and thousands of vinyl wraps under their best to provide your car an unforgettable look. Our installers will ensure there are no bubbles, tears, streaks, or wrinkles in your wrap. We have perfected the ability to minimize seams, tuck corners properly, and prep your vehicle before the wrap so your investment will last.
There's no better return on investment for a sports car than a set of vinyl racing Stripes. Racing stripes turn a plain Jane ride into an aggressive beast in a matter of hours. Aftermarket racing stripes give you more options than the standard factory stripes. Whatever you can imagine, our designers will make it happen. Single tone, single stripe, dual stripe, dual stripe with pinstripe accents, we've seen it all.
At Apex Customs Phoenix, our highly trained and experienced vinyl stripe installers will ensure your striping kit is installed with perfection. Racing stripes require skill and precision to get right. Unlike a full wrap, Racing Stripes have to be measured and laid with perfection so you don't end up with a crooked looking car or truck driving down the road. At Apex we have perfected striping kits so they are installed with accuracy giving your ride the aggressive look you've been dreaming of.
If you're looking for that two-tone look, a vinyl hood wrap is a great option. Vinyl hood wraps offer a unique look that not many cars on the road offer. A great option for sun damaged hoods, a vinyl hood wrap is a quick, affordable solution to restore your car's original beauty.
At Apex Customs Phoenix, our installers have perfected the hood wrap. Hood wraps often require seams because the hood is larger than a single sheet of vinyl. A professionally installed hood wrap with look exactly like paint. The seams will be hidden in a way that nobody will be able to tell your hood is Vinyl Wrapped.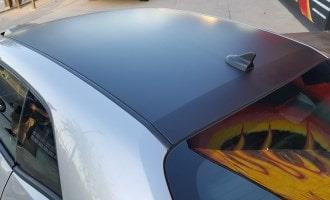 Vinyl roof wraps are common in the Phoenix Metro area. The desert sun does a good number on paint and a vinyl wrapped roof is a great way to bring your car back to life. Whether you're looking for a two-toned look, a matching addition to your hood wrap, or hiding your sun damaged roof, a vinyl hood wrap is a great option to give your ride an edge.
At Apex Customs Phoenix, our professional installers can wrap your roof so that it looks like factory paint. Roof wraps can be notoriously difficult because they require a single large sheet of vinyl to be laid with perfection on the first run. On top of that, most modern roofs have antennas smack in the center of the clean sheet of vinyl. Inexperienced wrap shops and DIY'ers often run into a lot of issues with the antenna. You'll end up with seams and tears all around the antenna. Our installers will lay your roof wrap in such a way that you won't be able to tell it's been wrapped.
Whether you're looking for a simple emblem overlay or complete business wrap, Apex Customs has you covered. With our state of the art vinyl plotting and printing equipment and expert designers, we can turn your vehicle into a moving billboard or subtle custom ride.
Our installers and designers have wrapped semi trucks, buses, trucks, and even ice cream carts for clients from the NFL to the neighborhood corner store. Any vinyl graphics project you have in mind, we'll design, plot, print, and install your next vehicle graphic.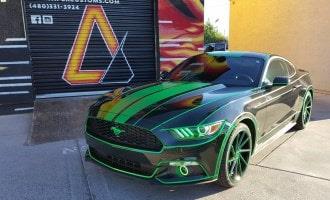 Vinyl Pinstripes are making a comeback in a good way. With some professionally installed pinstripe accents, your ride can turn heads on every street your drive. Pinstriping can accent your car in a variety of ways. Whether you're looking to accent your racing stripes, add a subtle stripe down your side panels, or accent every edge of your car, we've got your covered.
Vinyl Pinstriping is an art on its own. At Apex Customs Phoenix, our installers have completed a number of projects that have become the talk of the town.
Need to add a little flair to your side mirrors or color match them to the color of the rest of your car? Vinyl wrapping your side mirrors is a great solution to spruce up those mirrors while also protecting them from the elements and road debris. Side mirrors are exposed to rocks and road debris more than most other parts on a car, truck, or SUV. It is common for side mirrors to end up with a rock of rock chips and paint damage, Vinyl Wrap can cover that damage or protect newer mirrors from receiving them in the first place.
Side mirrors are a challenging part to Vinyl Wrap properly. They have a complex shape that makes is exceptionally hard to apply flat vinyl wrap sheets to. At our Phoenix Vinyl Wrap shop, we have the skills and expertise to wrap your mirror in a way that makes it look like factory paint. We've wrapped hundreds of mirrors and you can rest assured that your mirror will look fantastic when the job is completed by Apex Customs Phoenix.
Vinyl wrapping, also commonly referred to as vehicle wrapping, is the process of applying pressure-sensitive sheets of vinyl, available in any color or finish, to your vehicle's painted surfaces by hand. Vinyl wrapping is one of the newest and most innovative products to hit the custom automotive world in years. It can be installed on everything from cars, trucks, and SUVs to boats, trailers, walks floors, furniture, and even electronics.
Vinyl wrap is essentially a big sticker or decal that will change the color and finish of your car, truck, or SUV while at the same time protecting the factory paint from stone chips, scratches, and fading. Vehicle wraps are designed to be installed in such a way that it looks identical to car paint, therefore you won't be able to tell the difference between a wrapped car and a painted car. The primary difference between a vinyl wrap and traditional automotive paint is vinyl wrap is temporary so you can easily change the color and it won't ruin your vehicle's residual value or warranties, it's more affordable, and it takes significantly less time to install.
Vehicle wrapping results in a protective vinyl covering over the surface of your vehicle that is 3-4 mils thick which keeps your factory paint job safe from road debris and weather elements. When you are ready to remove a vehicle wrap, you can peel the vinyl off the surface of your car and provided you use quality vinyl materials by 3M or Avery Dennsion; your vehicle's factory paint will appear as it did the day you applied the vinyl wrap. Retaining your factory paint job is highly beneficial when you have a leased vehicle, or want to protect your cars paint to retain the residual value of the car, truck, or SUV when it's time to trade it in our sell it.
Vinyl wrap films are made for a few basic raw materials the primary of which is polyvinylchloride (PVC) polymer. PVS polymer is a plastic that has a relatively rigid property. When making vinyl wrap, PVC is combined with a plasticizer to make the film flexible, pigment to create the desired color of the vinyl, heat stabilizers, fillers, processing aids, and special additives which help the vinyl to achieve its UV absorber characteristics to improve UV radiation resistance. The raw materials used in this process change range in their level of quality which will result in the vinyl wraps durability rating.
Beyond just the raw materials used to manufacture vinyl wrap, the manufacturing process, as well as the type of plasticizer that is used to create the vinyl wrap, has the biggest impact on the vinyl's durability. There are two different processes that are used to manufacture vinyl wrap, casting and calendaring. Each of these processes results in a vastly different quality of vinyl film. In general, the casting process is the preferred method of manufacturing which results in higher quality films. The plasticizers grade used in the casting process is what determines the vinyl wraps flexibility. For pressure-sensitive adhesive films, monomeric or polymeric plasticizers can be used. Polymeric plasticizer is considered the higher grade material where monomeric is the lower grade which is also cheaper.
Vinyl wrapping your car, truck, or SUV is not only risk-free, it provides numerous functional benefits over painting or dipping such as:
Vinyl wrap provides protection from stone chips, scratches, and abrasions to your vehicle's factory paint.
When high-quality vinyl wrap like 3M Graphics or Avery Dennison is used, it can be easily removed by a professional and not cause damage to your factory paint.
Vinyl wrap will preserve the original factory paintwork which is beneficial if your vehicle is leased and you want to add a custom look or you want to preserve the factory paint to keep your car, truck, or SUVs residual value maintained.
Vehicle wrapping is substantially cheaper than a traditional paint job.
Car Wraps will not devalue the resale value of your car like a traditional paint job.
Warranties and lease agreements remain valid with vinyl wrap unlike re-painting a car or truck which would void factory automotive warranties, put you in violation of your lease, and increase the cost of insurance.
When properly cared for and quality material is used, vinyl automotive wraps will wear as well as, or even better than traditional paint. Vehicle wraps will take a beating while protecting your car, truck, SUV or motorcycle's factory paint underneath.
Vinyl car, truck, and SUV wraps come in a wide variety of colors and patterns. 3M and Avery vinyl's offer a custom unique look that is almost impossible to reproduce with traditional paint. Avery and 3M both offer matte, semi-gloss, gloss, brushed steel, carbon fiber, metallic flake, matte metallic, chrome and even leather-like finishes.
With vinyl wrap, expensive, color-matching paint fees are unnecessary for scratches or accident vehicles. All you have to do when damage occurs is re-wrap the section that needs repair with a new sheet of vinyl.
When a car, truck or motorcycle is wrapped by our professionally trained installers, it is difficult to notice your car is wrapped and not painted. With our vinyl paint wrapping technique, the vinyl will literally look as if it was sprayed on.
With car and truck wraps, you can affordably customize parts of your car. You don't have to wrap your entire car; using vinyl on just your hood, roof, mirrors, or trim is a common request.
Matte paint jobs are brittle and can chip easily while matte vinyl wrap is durable and harder to scratch.
Vinyl wrapping your car or truck will hide dings or scratches while offering a "freshness" to the look of your vehicle.
Vinyl wraps look incredible, you'll be turning heads left and right with your newly wrapped car, truck, SUV or motorcycle.
We get the question daily, should I vinyl wrap or dip my car? Plastidip is considerably cheaper than vinyl wrap so if you're looking for a color change for your ride, why should you pony up the extra cash for a vehicle wrap? The short and sweet of it is vinyl wrap is a far superior product to PlastiDip when it comes to car, truck, or SUV color changes. In fact, our shop stopped offering full vehicle PlastiDips due to the constant issues we saw our customers experiencing with Plasti-Dip.
PlastiDip gets a lot of attention these days because it is cheaper and easier to apply than vinyl wrap. While Plasti-Dip is a great option for the DIY car enthusiast who wants to change the color of his 1995 Honda Civic, it is a terrible option if you are looking for a truly custom car that stands out from the crowd.
Here are a few reasons why vinyl wrap is superior to PlastiDip and worth the investment:
In the best possible scenario, if you baby your PlastiDip and keep it out of the elements, it could last up to 3 years. Most likely, however, you'll be very lucky to get a year out of your investment. Vinyl wrap, on the other hand, can last up to 7 years or more.
While PlastiDip has been releasing a variety of cool colors and mixes, the color and pattern options are still limited when compared to vinyl wrap. Vehicle wraps offer a plethora of colors, textures, and finishes that Plasti-Dip simply can't match.
With PlastiDip you get what you pay for. When it comes to a vehicle that is exposed to harsh elements, chemicals from the road or gasoline spills when filling your tank, even bird droppings, PlastiDip just doesn't hold up. Plasti-Dip is easily damaged by any number of things your car comes into contact with and will look terrible in no time flat. We've had countless customers leave with a new PlastiDip ride only to return days later with chips, streaks, fading, bubbling, you name it. Vinyl wrap, on the other hand, stands up to its durability claims.
Removing PlastiDip from a trim piece or wheel is one thing, trying to remove Plasti-Dip from an entire vehicle is a whole different story. Peeling PlastDip off an entire car is labor intensive and in most cases, you'll end up with scraps of Plasti-Dip in areas you will never be able to reach. Also to do it properly Plasti-Dip removal requires special chemicals which easily damage your factory paint if not carefully monitored. Vinyl wrap in contrast, is easy to remove in full sheets with little effort. You won't risk cracks and crevasses that you can't reach remaining full of rubber.
Hands down a vehicle wrap just looks better than PlastiDip. Even with all the advancements in PlastiDip technology adding glosses and new colors, Plasti-Dip just doesn't compete with vinyl wrap in the looks department. PlastiDip is difficult to apply properly without your final product looking splotchy and inconsistent. It's difficult to get the spray pattern, timing, and layers just right to result in a great looking end result. With Vinyl Wrap, on the other hand, you get exactly what you expect. With high-quality vinyl wrap materials like Avery Dennison and 3M and a professional installation, it's difficult to not end up with a fantastic looking final product.
Dangers & Pitfalls of Cheap Vinyl Wrap
We've all asked the question, why should I spend $800 in materials on 3M or Avery Dennison vinyl wrap when I can buy the same color and style on eBay for $200? A plethora of Chinese manufactured vinyl wrap has become available on sites like Amazon and eBay as well as a host of discount vinyl wrap supplier websites. We're well aware of the cost difference, we get at least five sales calls and emails a week from manufacturers overseas trying to get us to carry their vinyl wrap. Unfortunately, the adage of "you get what you pay for" could not be truer when it comes to vinyl wrap.
It can be a difficult pill to swallow, spending considerably more money on vinyl wrap material for what seemingly is the same material. I mean it's just a big sticker, right? How different could the materials really be? The truth is you might as well flush that $200 you dropped on a roll of vinyl wrap from a Chinese supplier right down the toilet. We've wrapped thousands of cars over the years and we can say with 100% confidence that it is not worth the time or money to wrap a vehicle with cheap vinyl wrap. Beyond the shortfall of the material, there is a real risk that you could be causing serious damage to your vehicle's paint job.
So why is cheap vinyl wrap such a bad investment? Here are a few key factors to consider:
If you've ever tried to wrap something, you'll be able to appreciate how frustrating air bubbles are. Cheap vinyl wrap is breeding ground for air bubbles. 3M Graphics and Avery Dennison have both developed sophisticated air release channel technology built into their vinyl wrap which allows the vinyl to breathe during installation. The air release features are invisible to human eye and will save you countless hours of frustration when performing a vinyl installation. There is nothing more infuriating than lying the perfect piece of vinyl on a large panel only to discover an air bubble smack in the center!
Wrinkles are the second most frustrating challenge to overcome when performing a vinyl wrap installation. Wrinkles will ruin a good piece of vinyl leading to waste, cause lifting of the wrapping material from the vehicle, and cause ugly ripples and distortions in your final product. 3M and Avery Dennison have both developed vinyl wrap that is resistant to wrinkling and provides a thick enough material to reducing wrinkling effects. They also employ vastly superior heat capabilities which allow you to heat a piece of wrinkled vinyl wrap back into its original shape so it's still usable.
Cheap vinyl wrap is notorious for cracking, especially when exposed to the harsh elements of the sun which Arizona has no shortage of. The materials used to manufacture cheap vinyl wrap will dry and crack under even mild sun exposure. This will leave your car, truck, or SUV looking cheap, old, and run down.
When applying vinyl wrap, the goal is to get a tight stretch on the material to provide a smooth, glass like final product that looks exactly like paint. 3M and Avery Dennison vinyl wrap is developed using the cast method and employing materials that allow it to hold up to stretching and manipulation. This allows you to pull, stretch, and conform the material to the surface of the vehicle without risk of tears, ripples, and color distortion.
Cheap Vinyl Wrap on the other hand, is prone to tears and ripples the minute you try to stretch it to apply it to the surface of your vehicle. It is also notorious for tearing after you have applied the vinyl wrap. Imagine you finish your Vinyl Wrap job, step back to take in its beauty and watch in horror as the vinyl starts to tear and lift away from the vehicles surface.
Cheap vinyl wrap is notorious for peeling both during the installation and well after the installation is complete. The adhesives used in cheap car wraps are a low tack material. It doesn't take long for a cheap vinyl wrap to start peeling at every seam and tuck point. Your vehicle wrap investment will look like a cheap knock-off job in no time.
The adhesives and materials used in the manufacturing of cheap vinyl wrap are highly prone to water damage. 3M Graphics and Avery Dennison have developed vinyl materials to stand up to years of abuse by the elements without damage. Cheap vinyl wrap, on the other hand, will dry out, lift, wrinkle, and tear the moment it is exposed to a good rain or snow.
Discoloration is one of the worst features you're buying with cheap vinyl wrap. A vinyl wrap installation requires the material to be stretched and heated in some cases multiple times. That cheap vinyl wrap may look great on the roll when you first receive it, however, the minute you stretch it or apply any heat to it, the color will distort, discolor, and streak. 3M Graphics and Avery Dennison Vinyl Wrap, on the other hand, can be stretched, heated, re-stretched and heated again and it will retain its original color and texture.
When all is said and done, it all really comes down to whether or not the manufacturer stands behind the products they produce and sell. There is nothing more infuriating than dropping a $2,000 on the material and labor to install a vinyl wrap only to have the material discolor, fade, rip, tear, and fall off a few weeks later. At Apex Customs we only use 3M and Avery Dennison materials because we know they stand behind their products and back them with industry leading warranties.
The most crucial pitfall to note about cheap vinyl wrap is the potential for serious damage to your vehicle's factory paint. Have you ever tried to remove a manufacturer's sticker from a new product that would just not come off? You grab a corner of the offending sticker and give it a yank only to have it tear into a million little pieces or just pull the top laminate layer off the sticker. After several minutes and a few choice words, you finally relent and pull out the goo-gone to let the citrus work it's magic only to find that your efforts resulted in scratches all over the new shiny DVD player. Now imagine that amplified by a thousand across your entire vehicle.
The adhesives used in cheap vehicle wraps are similar to that horrible parking sticker that was slapped on your illegally parked car or that cheap UPC label on the DVD player from Walmart. Removing cheap vinyl wrap is not only an incredibly frustrating process, it will also commonly come off while still gripping a piece of your expensive paint job. Avery Dennison and 3M Graphics have gone to great lengths to develop safe release features into their vinyl wrap adhesive. These safe release features alone are worth every extra penny you spend on a professional quality vehicle wrap.
The Best Vinyl Wrap Available
Cast vinyl wrap is a process of making vinyl wrap that is similar to baking a cake. The vinyl wrap manufacturing during casting starts with a recipe of ingredients required to complete the process. The materials are combined and mixed in a giant bowl in a predetermined order and mixed at a specific speed for a specific time-period. The results in a consistent vinyl mixture which referred to an organosol. The organosol is then precisely cast onto a moving web material referred to as the casting sheet and sent through a series of ovens to evaporate the solvents in the mixture. As the solvents are evaporated, the resulting material is a solid film that is then wound up onto large-diameter rolls ready for adhesive. The type of casting web used determines the texture of the vinyl wrap film.
Once the vinyl film has completed the manufacturing process, the large sheets of vinyl are then rolled through a process to apply the adhesive which holds the vinyl wrap to the surface of the vehicle when applied. In the casting process, vinyl wrap is cast onto the sheet in a relaxed state which results in good dimensional stability. The casting process also allows the film to be thin which helps with the materials conformability properties that are important when wrapping vinyl over contoured surfaces. Cast vinyl wrap is the best material for use on cars, trucks, SUVs, recreation vehicles and boats where the goal is to have a finished product that has a paint-like surface.
Advantages of Cast Vinyl Wrap Film
Cast vinyl wrap films have the best durability due to the raw materials used and manufacturing process employed in making the film.

Cast vinyl films can be produced in very thin sheets which will help to produce a conformable product that makes application to surfaces with corrugations and complex curves possible.

Cast vinyl films typically maintain their color and UV properties better than other vinyl films.

The manufacturing process used when making cast films allows for small production runs of special colors.

Casting vinyl wrap results in low shrinkage because the casting sheet rather than the film itself is pulled through the machine. Because the film hasn't experienced stress from pulling during the manufacturing process, the film does not try to shrink back to its original form when installed.
| Attribute | Cast Vinyl Wrap | Calendered Vinyl Wrap | Polymeric Vinyl Wrap |
| --- | --- | --- | --- |
| Durability | 7+ Years | 1-5 Years | 3-7 Years |
| Conformability | Excellent | Good | Very Good |
| Stability | Excellent | Good | Very Good |
| Gloss | Variable | Good | Very Good |
| Color Range | Many | Many | Many |
| Product Variety | Many | Many | Many |
| Metallics | Many | Few | Few |
Step By Step Guide ~ How To Vinyl Wrap
Step 1: Approach / Inspecting Area / Removal of Vinyl Wrap
The first step in any quality install is good prep and a solid approach. To properly plan your projects, you must know how much vinyl is necessary to wrap the part. You will also want to try and remove anything that is blocking you from wrapping the surface entirely. Knowing how much vinyl you need, where tension areas are, issues with the paint, etc. are all important things to consider. Once you have all parts removed such as liners, moldings, handles, etc., it's time to get cleaning!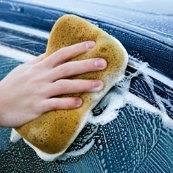 Step 2: Cleaning & Prep Prior to Vinyl Wrapping
A clean surface/product is by far the most important thing to consider when wrapping anything. Most surfaces can be cleaned by using a degreaser and then 70% Isopropyl Alcohol. You will want to make sure the surface that you are wrapping is smooth to the touch. You would think that the vinyl would cover chips, scratches, or dirt debris, but it doesn't. The vinyl contours to any area and if there are imperfections, they will be visible once the project is completed.
Step 3: Vinyl Wrap Size & Measurements
Once everything is removed and the surface is cleaned, you will want to measure out a piece of vinyl that fits roughly 4-6 inches longer than the piece that you are wrapping. If you are skilled, you can trim the vinyl to a smaller size if you are looking to save money on the vinyl. For starters, it's easier to work with more vinyl than less. The vinyl comes in a 60" roll by 25 feet in length. Some companies will sell less material based on the project but the standard roll is 60" or 5 feet. Most panels on a vehicle are smaller than 60" but there are times when you have to cut multiple pieces for an oversized hood/roof/trunk.
Step 4: Laying Vinyl Wrap
Double check that the surface is prepped and clear of dust and debris that might have been floating around while you were taking measurements. It's easiest to have a friend with clean hands help pull the backing off the vinyl, but you can also fold back one of the corners, tack the edge, and pull gently across the surface if you know what you are doing.
Once the backing is off, the adhesive will be tacky but not 100% tacky until pressure has been applied. For wide surfaces, it's preferred to work inside out. Trapped air is your enemy. So you will want to keep your edges lifted so that you aren't trapping air as you are squeegeeing. It is recommended that you hold the vinyl slightly off the surface as you run your squeegee across the surface.
Once you have all the air released and your vinyl is perfectly flat, test your work by taking a heat gun and go over the area that you just flattened. If any air is trapped, it will bubble and you can push the air out if the vinyl has air release. Heating before you make your cuts ensures that you can lift the vinyl off the vehicle if trapped air is too stubborn to release.
Step 5: Cutting Vinyl Wrap
First thing to remember when making cuts is that the razor will slice thru paint very easily, so you want to watch your blade and put it away when not in use. When the vinyl is laid on the panel, you will want to trim the vinyl to fit the piece perfectly to the edge or enough to wrap behind it. When wrapping a body panel, you can use the outer edge of the body line to make the cut so there is roughly 1/4cm or so to tuck around the edge. This will ensure that you have enough vinyl to cover the color underneath or in the cracks. Always keep the blade off the vehicle and only using the edge to run across but not slicing. Practicing on other parts before wrapping the body paint would be the best idea if you are unfamiliar with wrapping.
Step 6: Tucking Vinyl Edges
After all the cuts are made, you will want to tuck all your edges. This process can make or break a wrap. There are a lot of people that can wrap a flat panel fast and efficiently, but they lack the quality in wrapping edges nicely. A proper edge shouldn't have wrinkles (fingers) and it shouldn't lift. If there is too much stretch or tension, the edges will fail.
The final step is a quality post heat over what you've just laid, cut, and tucked. Post heating the surface will make sure that there isn't too much tension on any area and will usually show you signs of failure by the vinyl curling up or failing. On deep pockets and contoured edges, a post heat will help to make sure that those areas don't pop when the wrap is exposed to the sun. Clean the surface after the post heat with some alcohol and inspect your panel!
There are a lot of rumors and myths floating around about vinyl wrap so we figured we would set the record straight. While we can't address every falsehood floating around the interwebs, we at least want to address the most frequent we hear from our clients.
Myth 1: Vinyl Wrap Will Damage Your Paint
False. In reality, vinyl wrap helps protect your paint from the elements and road debris. Vinyl acts as a protective cover from the sun, ice, salt, dirt, and anything else your car comes into contact with on a daily basis. When quality vinyl wrap is used for your installation and uninstalled properly, your paint will look as good as the day you applied the wrap.
Myth 2: Vinyl Wrapping is too Expensive
False. Vinyl wrap gets a bad wrap when compared to color change options like PlastiDip in the cost department, however, vehicle wrapping is a bargain when compared to traditional paint. Vinyl wrap is a far superior product to PlastiDip and worth every extra penny. A custom paint job will set you back in the $10,000 range if you're lucky. Vinyl wrap, on the other hand, is more in the $2,500 range and will help retain the residual value of your car by protecting the factory paint.
Myth 3: Vinyl Wrap Does Not Last
False. When properly cared for a vinyl wrap can last up to seven years. PlastiDip, by comparison, has a max life of 2 years. Wraps are very similar to paint, if you take care of them, they will last. Most people that get a vinyl wrap want to change the color after a few years anyways, and the beauty of wrap is a color swap is as simple as pulling and laying a new color.
The lifespan of a vinyl wrap is depended on how it's used, the quality of vinyl material you use, and the location of where the car lives most of the time. If you live in the Phoenix sun and don't have a garage to hide your ride from the solar rays, your vehicle wrap won't last seven years. The same goes for paint which is a big reason why we get a lot of quote requests for hood and roof wraps at our Phoenix Arizona shop. However, if you have a garage, live in a cooler climate, and keep your wrap clean and maintained, then your vehicle wrap will last its full life span.
Another factor to keep in mind is the finish you choose for your vinyl wrap. A matte vinyl wrap is not going to last as long as a gloss vinyl which has a protective clear coat on the top layer of the vinyl material.
Myth 4: Vinyl Wrap is Difficult to Remove
False. When quality vinyl wrap material like 3M or Avery Dennison are used, and your vinyl is installed properly, vehicle wraps are very easy to remove without damage to your factory paint. While we always recommend vehicle wraps get removed by a trained professional, you can remove the vinyl yourself.
Hand Car Wash – When it's time to clean your vinyl wrapped car, truck, SUV or motorcycle, Apex recommends hand washing with quality automotive cleaning products. You can treat your wrap like paint, but AVOID using compounds and swirl/scratch removers at all costs.
Waterless Car Wash - Apex also recommends using a product like a waterless wash to maintain your cars vinyl wrap between major washes.
Vinyl Wrapping and Microfiber
Apex highly recommends using microfiber towels when cleaning and drying your vinyl wrapped car, truck, or motorcycle to prevent scratches to the vinyl wrap. Keep an extra microfiber towel lying around for the unexpected shine up!
Fold each microfiber towels in half twice before use on the vinyl. This will give you 8 clean pads to carry out your cleaning operation on your wrap.
Spray the first microfiber towel with a waterless car wash to pre-wet, and then lightly spray the surface of the vehicle's vinyl wrap to be cleaned. Clean only one section of the car, truck, or motorcycle at a time.
Wipe over the section of the vehicles vinyl wrapped surface with the microfiber towel pre-sprayed with the waterless car wash. Any motion circular or linear will work just fine.
Once you've applied the waterless car wash and gently covered the section of the vehicle simply grab a clean microfiber towel and gently buff off leaving a brilliant long lasting luster.
Vinyl Wrap Automated Car Washes
Brush-type car or truck washes are NOT recommended on a vinyl wrapped vehicle as they can scratch the film, cause edges to lift or chip, and dull the film's appearance. Brushless car washes are acceptable for vinyl wrap.
Vinyl Wrap and Pressure Washing
Although hand washing is the preferred cleaning method for vehicle wraps, pressure washing may be used only under these conditions.
Ensure the water pressure is kept below 2000 psi (14 MPa).
Keep water temperature below 80°C (180°F).
Use a spray nozzle with a 40-degree wide angle spray pattern.
Keep the nozzle at least 1 foot (300 mm) away from and perpendicular (at 90 degrees) to the car.
Important Note! Holding the nozzle of a pressure washer at an angle to the graphic may lift the edges of the film.
Vinyl Wrapping & Difficult Contaminants
Often difficult contaminants on your vinyl wrap such as bug splatter, bird droppings, tree sap and similar contaminants by soaking them for several minutes with very hot, soapy water. Rinse your car, truck or motorcycle thoroughly and dry. If further cleaning is needed on the vinyl wrap, test one of these products in an inconspicuous area to ensure no damage to the wrap film: Meguiar's Gold Class Bug and Tar Remover or 3M Citrus Base Cleaner. Isopropyl alcohol (IPA) (two parts IPA to 1 part water) or denatured alcohol may also help. Spot clean the contaminants. Do not use rough scrubbing, dirty or abrasive tools, which will scratch the film. Wash and rinse off all residue on your vinyl wrapped vehicle immediately.
Automotive Vinyl Wrap & Fuel Spills
If any fuel finds its way onto your car, truck, or motorcycle, wipe it off immediately to avoid degrading the vinyl wrap and adhesive. Then wash, rinse and dry the vehicle as soon as possible.
Is a vehicle vinyl wrap permanent?
A complete vinyl wrap can typically last for 5-7 years depending on the material used and conditions in which the car is driven and stored. The vinyl film can be removed completely without leaving any adhesive residue, returning the car to its original color and condition.
How long will my vinyl wrap last?
That depends on the application. If you park in a garage and your car isn't exposed to sunlight on a regular basis, the wrap could be good indefinitely however, typical vehicle wraps are good for 5-7 years.
The most common ways to improve the life of a wrap include protection from the sun, protection from water getting underneath the wrap and protection from abrasion. It is important to think about how your wrap may be exposed and, to discuss how to protect your wrap with your Apex Installer.
Are wrinkles, bubbles & seems acceptable for vinyl wraps?
Badly installed vinyl wraps will have wrinkles, bubbles, and seams. At Apex Customs Phoenix, our installers have the experience, training, and expertise to ensure your vehicle wrap is installed without wrinkles and bubbles and any seams required are hidden. With large vinyl wrap installations that include complex curves may make it difficult to eliminate all seams, however, our installers will take every precaution to finish your graphics job with as little as possible.
Can I take my vinyl wrapped car through a car wash?
Most vehicle wraps can be taken through car washes just like any painted vehicle. However, like with many paint jobs, vehicle wraps can also be damaged by car washes. Take care around the exposed edges and seams of a wrap and ask your Apex Customs installer what they recommend to increase the life of your particular wrap.
Will a vinyl wrap damage my paint?
No. When you use quality vinyl wrap materials, the vinyl can easily be removed without any damage to your factory paint. In fact, when properly installed, vinyl wrap will actually protect your paint helping to retain your vehicle's resale value. Vehicle wraps are the perfect solution for any graphics, decal, or sticker application you wish to apply to your vehicle.
How long does it take to vinyl wrap my vehicle?
Installation times vary according to the complexity of the project. A basic wrap job takes about 1-2 days. Due to the nature of the adhesive vinyl and the complex curves to which it's applied, we build in an extra 24 hours after the application to allow for the film to fully adhere to the vehicle.
Do you cut on my car's paint when installing the vinyl?
At Apex Customs we know you love your car, and we wouldn't do anything to hurt it. Our certified professional installers employ a special technique called "BLADEAWAY" to protect your paint. We also use a product called Knifeless Tape which allows our installers to make precise edges on the painted surface without the use of a blade. The combination of these techniques allows for the most intricate trimming with no harm to your car.
Why is a full wrap car vinyl wrap more beneficial than a partial vinyl wrap?
Full wraps cover most or all of the paint on a vehicle while partial wraps cover only part of the vehicle. Even though full wraps are more expensive, they protect all of the original paint underneath instead of just part of the paint. This is critical when the wrap is removed since fading and scratches can result on the unprotected paint of a partial wrap. As a result, full wraps tend to protect or even increase the resale value of vehicles more than partial wraps.
What colors can I choose for my car's vinyl wrap?
Vinyl Wrap can come in almost any conceivable color, finish or texture. Check out the 3M selection of colors and finishes here.
What is a vehicle vinyl wrap?
A vehicle vinyl wrap is a process of applying pressure-sensitive vinyl in numerous colors and finishes is applied by hand onto a vehicle's painted surface. Wrapping is the newest and most innovative thing to hit the car customizing world in years. Vinyl wraps can also be installed on cars, trucks, SUV's, bikes, boats, wave-runners, trailers, walls, floors, furniture, laptops or just about any surface.
How much does a car vinyl wrap cost?
As with almost all custom work, it is hard to say exactly how much your vinyl wrapping project will cost. It will depend on the size of your vehicle, the vinyl material you choose, the complexity of the job, and more. Please give us a call or submit a quote request and tell us about your project so we can put a quote together for you.
How do I know that I am comparing "apples-to-apples" when looking for a vehicle vinyl wrap?
Here are some important points that can guide you to making an informed decision:
Always ask how long the wrap will last and about the warranty coverage
Make sure you understand what parts of the vehicle are going to be wrapped. Not wrapping certain difficult parts of a vehicle such as rear-view mirrors or door handles may reduce the cost of the wrap. It is also critical to use a design that can incorporate un-wrapped parts of the vehicle for optimal appearance. It is not always necessary to wrap the roof of a vehicle and this can reduce your cost. For example, if a delivery van or motor home roof cannot be seen from the ground, then this part of the wrap could be eliminated. However, racing vehicles or vehicles that drive in big cities and are seen from above, it's beneficial to wrap the roof.
Ask about the vinyl that will be used. There are different qualities and price points of vinyl. Typically "high performance" vinyl materials are recommended for high-quality vehicle wraps. There are also special vinyl materials designed just for walls and floors.
Make sure you understand the total cost associated with the wrap. There are frequently additional costs associated with vehicle prep and cleaning as well as design. Ask your wrap provider for an all-inclusive price.
The design is the single most critical step in the success of your wrap. Some designers are more experienced and worth the extra cost associated with their services.
Be sure to ask what special techniques will be used to prevent paint, clear-coat, and plastic part damage. These techniques may increase the cost of the wrap.
Be sure to ask what techniques will be used to prevent wrinkles, bubbles, and seams. A wrap with zero wrinkles, bubbles and seams is typically more expensive than a normal wrap or may not be possible.
3M Graphics and Avery Dennison certified wrap providers are typically superior to other wrap providers because they have gone through scrutiny in order to obtain certification and must maintain their credentials in order to remain 3M certified.