TEMPE, AZ  |  PHOENIX, AZ
Paint Protection/ Paint Coating
At Apex Customs we appreciate the investment that you have made in your vehicle, and we are here to help protect that investment!
As an authorized dealer of the best automotive coating products in the industry, we are proud to carry CERAMIC PRO hydrophobic nano-ceramic paint coating. This product is specifically designed to lock in your paint's perfect shine and promote an easily cleanable surface. The hydrophobic nature of the product allows water to bead right off and carry dirt particulates with it.
Ceramic Pro offers:
Unrivaled scratch and stain resistance

Exceptional clarity

Superior resistance dirt and grime

durable glass shield technology

Tough, durable and maintenance free

Corrosion resistance

Oxidation resistance

UV protection
Our certified installation experts will install this cutting-edge paint protection on your car, truck, van, or motorcycle. We offer this product for complete exterior paint, plastic moldings, interior, wheels, calipers and even glass. This service will provide protection your vehicle needs for years to come.  We are conveniently located near Phoenix, Scottsdale, Mesa, Tempe, Glendale, Gilbert, Chandler and surrounding areas in Arizona. To learn more about our approach to automotive customization, check out our about us page.
Called by many names with many products to choose from Apex Customs weeds through those options to offer only the best and newest technology on the market. We know how hard people work for their vehicle, with nano-ceramic coatings we offer a way to keep your paint and other vehicle components protected. This protection is evermore important in our harsh Arizona environment. Being one of the few shops in the area that also offers autobody and paint as well as coatings we are properly poised to know how to offer you the best quality install in the business.
Ceramic Pro offers the best possible product on the market consistently ahead of the technology curves and offering the best warranty's in the business. As a certified installer all Ceramic Pro products you are approved for the Ceramic Pro warranty's.
Our most common package is the silver package which includes paint correction, one layer of  9H complete exterior paint coating a layer of light top coat a treatment of all plastics and your rims and finally a window and windshield treatment.
Modern Automotive Sealants
In this the modern age chemical coating technology is advancing quickly. We understand the chemistry and we understand your vehicle our vow to you is only to offer the best technology in the market, we have done the footwork so you don't have to.
Vehicles come from the factory in many cases needing some form of paint correction. Under close examination swirl marks and paint flaws can be found on almost any vehicle. Before we lock your paint into our hard glass shell we go through the extra effort to make sure your paint is in perfect condition. Our coatings are only then installed by our expert staff with hundreds of procedures in their history. Finally we are one of the few shops in the area to use a controlled paint booth environment with air movement systems to assure no contamination gets in your new coating before curing.
Paint protection sealant, or nanocoating as it is sometimes known, is one of the best ways to preserve the showroom quality finish on your vehicle. This virtually invisible shell of protection will keep your vehicle looking newer longer, without changing the design features or color. It will protect vulnerable areas such as front bumpers, hoods, side mirrors, door handle cavities, door edges, rocker panels, and rear fender panels. Preserving the finish of your vehicle with Ceramic Pro keeps your vehicle looking newer longer, and can enhance the resale value of your vehicle in the future.​
Cermic pro can be installed on virtually any area of your vehicle. Our most popular option is as an exterior paint sealant but we can also coat interiors, wheels, calipers, glass and plastics:
Protect paint from carwash brushes

make brake dust disappear from calipers and wheels with a quick water spray

keep your interior dash, leathers and plastics protected against drying and craking

Full hoods, trunks and roofs from bird droppings and tree sap
Automotive Paint Protection
The most obvious benefit of Ceramic Pro is it offers a glass shield which affords your car's paint a first layer of protection. The transparent coating works without altering the appearance of the original paint job.  No hardwater marks as any liquid will quickly shed away from the protected area.
Coating products can be utilized on any car, truck or SUV and can be applied to the hood, bumper, fender, lights and mirrors, protecting anything it is applied to. It can also be used effectively on boats, bicycles, motor homes and even outside furniture.
Protection coatings are zero maintenance. Simply wash your vehicle as you usually do, in fact you will find it even easier to maintain than before the product was applied.
No matter the substrate we have a coating for you
With many products to offer Ceramic Pro can be used on plastic, wood, glass, stone, leather, paint protection film, vehicle wrap vinyl, textile and more.
Ceramic PRO Hydrophobic Nanocoating
Automotive Paint Protection
With the best warranty and protection on the market we are proud to offer our clients Ceramic pro products. We want your vehicle looking as awesome as you do. Arizona is an especially harsh environment on vehicles. Coating your vehicle will allow your plastics, paint and leather a fighting chance in the brutal desert. Ceramic Pro 9H offers...
Scratch Resistance: Up to 3 times more durable than your OEM paint with just a couple layers of 9H protection
​Super Hydrophobic Effect: Allows water to bead off from anything it is applied making your vehicle even easier to clean
Thermal Resistance: Up to 1200 degrees Celsius
Anti-Graffiti: Feel free to anger your girlfriend, the anti graffiti capabilities have got you covered
Oxidation and Corrosion Resistance: Weather you spend your time in Phoenix or in the mountains of Flagstaff these protections are vital in our brutal surroundings
High gloss finish: Does not dull your OEM high gloss paint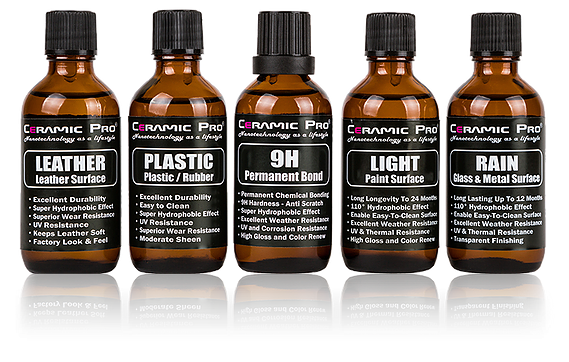 Is Ceramic Pro safe for my paint?
This product is specially formatted not to damage your paint or clearcoat and will void no manufacture warranty.
Does Ceramic Pro fade, crack or yellow?
Having undergone real life and SGS testing Ceramic Pro has stood up to testing in even the harshest environments.
Is Ceramic Pro an alternate to wax?
Yes. Once applied you will never need to wax again. Cleaning your vehicle will be as easy as cleaning your windshield with no need for harsh wash products or waxing.
Will Ceramic Pro protect my vehicle from scratching?
Yes! After the coating cures it will become 3 times harder than your paint. Ceramic pro is a glass coating and while we all know glass can still be scratched or chipped it is much more resistant than your stock clearcoat.
Can Ceramic Pro coat other areas of my vehicle?
Yes. We can coat paint, wood, plastics, leather, glass, wheels, calipers, and much more.
Does the product require annual servicing?
Yes. To maintain your warranty, you need to attend an annual service. This is to ensure the Ceramic Pro performs properly for the entire length of the warranty. If an annual inspection is missed, the warranty defaults to the lesser package at the time of the missed annual inspection. i.e. A Gold (Lifetime) warranty becomes a Silver (5 year) warranty when an annual service is missed.
What is the application process and how long does it take?
The process of Ceramic Pro will take between 1-5 days depending on the condition of your paint, the size of the vehicle and the packages you select. The 1st step is to wash and prep the vehicle. The 2nd step is to correct all the imperfections in the paint such as swirls and scratches. Once the vehicle is properly prepped, a body shop safe prep solvent will be applied to the entire vehicle to get to bare paint. At this stage the coating process will begin, and each panel of the vehicle will have Ceramic Pro applied, leveled, and stacked to achieve the package you have selected.
Can I apply Ceramic Pro to my own vehicle?
Ceramic Pro does not recommend this, as there will be no warranty and if done incorrectly you may permanently alter your vehicle.
Can you coat vinyl wrap? Do you recommend coating my new vehicle wrap?
Yes we can. Using specially formulated PPF film and vinyl coating we can coat your new wrap. This will add an additional layer of coating and make the products even easier to clean. Vehicle wrap films can still scratch coating them will help keep them in perfect condition. As vehicle wrap and PPF installs we know the ins and outs on how to use these products in perfect harmony.
You just powdercoated my wheels/calipers, can i coat them?
Yes we can, in fact we even discount the service in tandem since we want your vehicle looking as good as you do. Coating wheels and calipers will make cleaning them a breeze brake dust will simply spray away with a good hose.
Why is Apex the best place to go for coatings?
Apex believes in only offering the best possible products in the market to its customers. We are in this for the long game, your vehicle is a billboard for us and we want it looking great always. We R&D every product ourselves before giving it the Apex seal of approval. Our on staff chemist studies these type of products down to a molecular level. Not only can you get your coating done here but also your clear bra, stereo, wheels or anything else auto related.
Can I use a pressure washer?
Would you use this coating on your own vehicle?
If its a vehicle you want to own for years, want cleaning to be easy and care how your vehicle looks absolutely we would.
What is the expected lifespan of paint protection films?
We offer Gold (lifetime warranty), silver (5 years) and bronze (2 years).