CAR AUDIO, VIDEO & STEREO
Modern Car Audio & Video Solutions For Your Ride
Tired of the low-quality sound coming out of those cheap factory speakers in your car, truck, or SUV? Apex Customs has you covered with our full-service car audio solutions. Whether you're looking for a quick speaker upgrade or a full car stereo overhaul, our expert MECP certified technicians are here to design, build, and install any car audio project you have in mind.
At our custom car stereo installation shop, we can swap out your factory stereo, perform a factory MP3 or smartphone integration, install an amplifier to boost your volume, add some subwoofers for some killer bass, or do a full custom car audio build.
Factory Stereo Upgrades
Headunit Installation
MP3 and Smart Phone Integration
Speaker Installation
Subwoofer Installation
Amplifier Installation
Car Video and Entertainment Systems
Car Navigation Systems
Custom Car Audio Fabricati
The Apex Customs Difference
Unlike traditional car stereo shops, we specialize in building the system you want, not the system we want to sell you. At Apex Customs we are professional car customization experts and enthusiasts, not car stereo sales associates. Our aim is to build the system that fits your requirements and budget using the components you prefer.
We've all had the experience of dropping into the local big box electronics store or local car stereo corner store and been surrounded by sales reps who will say anything to make the sale despite their lack of understanding and knowledge about car stereo audio and video technology. While we do have relationships with car audio equipment suppliers, we will never push you to purchase components and features you don't need or brands we don't have 100% faith in. Our MECP certified staff understand the technology and will provide genuine information to your questions and concerns about your project.
Offering car stereo and audio installation services for Phoenix, Scottsdale, Mesa, Tempe, Glendale, Gilbert, Chandler and surrounding areas in Arizona. To learn more about our approach to automotive customization, check out our about us page.
Car Stereo, Audio & Video Services
Apex Customs Phoenix offers a wide variety of professional automotive car stereo and video customization services. From simple factory stereo smartphone integrations to complete custom subwoofer and amplifier builds, we've got you covered.
Factory Stereo Upgrades / Headunit Swaps
Factory Stereo Upgrades / Headunit Swaps
Does your car stereo lack the features and performance you require? The head unit is the heart of any car audio system. A stereo head unit swap is the best way to enhance your vehicle's audio system. Today's aftermarket car stereos provide an endless selection of features such as enhanced navigation, internet and satellite radio streaming, Bluetooth, WIFI, engine performance monitoring, and smartphone integration to name a few.
Whether you are looking to completely replace your stock car stereo or just want to implement some additional features and capabilities into your factory car stereo, Apex Customs has you covered. The expert car audio installers at our Phoenix AZ location can accommodate any requirement you have to build your ideal car audio solutions. Let us know what features you need, what aftermarket car audio brands you prefer, and what your budget is, and we'll put together a package to fit your needs.
MP3 and Smart Phone Integration
Does your factory or old aftermarket stereo only allow you to listen to the radio or the ancient compact disks of the past? Don't worry Apex Customs Phoenix has you covered. If you need to listen to your MP3 audio collection and stream music from your favorite music app, we can implement a solution that will fit your requirements and stay within your budget.
A few options to consider for your smartphone or MP3 integration are aux input cables, Bluetooth receivers, and USB integration cables. We have partnerships with a number of aftermarket suppliers that offer a wide range of factory and aftermarket stereo integration options. Give our Phoenix car audio experts a call and they will walk you through each of your options and provide a recommendation based on our years of car stereo experience.
Car Stereo Speakers & Subwoofers
Do your speakers lack the performance you need to enjoy music at the sound level and audio quality you desire? Do your speakers rattle or crack when you crank your favorite tune? Then it's time to swap out those paper core OEM speakers for some performance drivers that will deliver the sound quality you expect while handling the volume you desire.
Speakers and subwoofers are available in a wide range of sizes, shapes, and features. If all you're looking for is a simple upgrade of your factory speakers to provide a little more performance and reliability in your sound quality, we can replace your OEM speakers with direct replacements multi-stage speaker at an affordable price. If you're looking for a premium system that incorporates multiple drivers to handle your high, mid, and low audio frequencies, we can build a system that will deliver.
From tweeters and mids to subwoofers and baffling, we can design a system for you at our Phoenix AZ car stereo shop that will deliver the best car audio sound the industry has to offer.
Does your vehicle's stereo system fall short in the volume department? Amplifiers are the juice for any car sound system that requires more power than the small circuits of a stereo head unit can provide. If you want to add a subwoofer to your car, upgrade your speakers to component drivers, or just provide more wattage to your existing speakers, adding a car audio amplifier to your build is a must.
At our Phoenix car audio shop, our technicians are specially trained and certified to install and configure any car amplifier system your project requires. Amplifiers require fused power cables be run to the car's battery in addition to pre-amp input or speaker cables be connected to the stereo head unit. If not installed properly, an amplifier installation could severely damage your vehicle's critical computer and electrical systems and potentially pose a fire hazard.
Our technicians specialize in these complex amplifier installations. They are experienced and trained to hide the power and signal cables in such a manner that retain a factory look and protect your vehicle from electrical shorts that could cause damage to your vehicle. Our car stereo sales staff will also help you to make the best decision when sizing your amplifier to ensure it's going to deliver the results you expect.
Car Video and Entertainment
Adding video to your vehicles car stereo system is one of the coolest features in today's modern car entertainment systems. Whether you're looking to enhance your cars mobile entertainment system by adding additional video monitors, video sources, or want to add video functionality to your existing car stereo setup, Apex Customs can help you accomplish your goals. From headrest and overhead monitors to DVD players and mobile video integrations with your smartphone or mobile video device, there are a number of equipment options available on the market today to suit your needs.
Mobile video installations require audio, video, and power cables to be routed from the source head unit to the location of the video monitor. Headrest and overhead monitors require these cables be carefully routed behind OEM panels and trim pieces which require special tools and skills to do properly. The technicians at our Phoenix mobile video and entertainment shop have the experience, training, skills, and tools to install any vehicle entertainment component or system you're in the market for.
Navigation systems have become an essential tool for our everyday lives. Unfortunately, factory navigation systems often leave a lot to be desired when it comes to ease of use, accuracy, and functionality. Luckily aftermarket car audio and video manufacturers have stepped up to provide a range of exceptional navigation solutions to get you where you need to go with little frustration.
Whether you're looking to upgrade your existing navigational system, replace your factory navigational system, or integrate your smartphones built in navigational apps, Apex Customs can accommodate your requirements at our Phoenix AZ car stereo shop.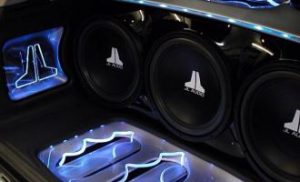 Custom Car Audio Fabrication
Are you looking for more than a simple factory stereo swap or speaker upgrade? Do you want a custom car audio solution that will set your ride apart from the rest or even win a few car audio competitions? At Apex Customs we can design, build, install, and tweak a custom solution that is going to make your vehicle truly unique. A custom car audio build will give your car an edge that will make any audiophile or car enthusiast respect your ride.
From subwoofer box builds and amp racks to integrated lighting and custom panel fabrication, our car audio installation experts can accomplish your goals. When making a large investment in car audio and video gear, it's critical to ensure the installation is done right. You don't want to risk that expensive car stereo gear with a shotty installation. At Apex Customs, our technicians will take the time and use the proper tools and techniques to ensure your custom build is done right and your audio investment is protected
The Apex Car Stereo Process
Step 1: Establish Your Budget & Plan
The first step in upgrading your car stereo is to establish your budget and game plan for your car audio and video needs. At our Phoenix car audio shop, out team can work with any budget. There is a wide range of options for aftermarket car audio and video, just keep in mind that high quality, crisp audio comes with a premium price. Our MECP certified techs can help you decide exactly what will be required for the result you desire and recommend a variety of options based on your budget and expectations.
When considering an aftermarket car audio stereo project, make sure you understand all the components required to complete your ideal build.
Components to Consider:
Headunit
Speakers/Tweeters
Subwoofers
Amplifiers
Adapters/Harness/Wiring
Converters
Custom Boxes
Remotes/Etc.
If you need some help figuring out speaker or amplifier wattage you need, check out our car audio calculators page.
Choose your ideal build and our car audio professionals will build your dream stereo system!
Once you have finalized your project requirements, our team will order all of the required components from our supplier. As soon as the parts arrive, we will schedule the install and get to work!
A typical basic car stereo upgrade with a stereo head unit swap or speaker upgrade requires between 3-6 hours. A more complicated build and install requiring intricate integrations, amplifiers, and subwoofer builds could potentially take up to a week.
Project time relies on a number of factors. The car audio builds at our Phoenix AZ shop take time because we do things right. If a speaker does not fit into the stock housing, we will customize the housing to make it fit 100%. When running wires and modifying interior panels, we take our time to ensure it is done professionally and complies with industry and MECP standards. At Apex Customs, we go the extra mile to make sure wires are tucked, and the build looks as OEM as possible unless we're told otherwise by the customer. In most of our car audio stereo builds, we take the approach of integrating aftermarket parts that retain the stock OEM look. If however, you are looking for a fully customized or exotic build, our car audio staff will create the design you desire.
The entire staff and management team at Apex Customs takes considerable pride in every install they undertake. We work hard to ensure all components are tested and are working to their best potential before releasing the vehicle back to you. If we think a part is faulty or just is not the right component for your build, we will let you know and make adjustments. Our goal is 100% satisfaction with every car audio build.
Please keep in mind that we are only as good as the products we are adding to your vehicle, so let us make some recommendations to you so that you know your build will last!
The car stereo, or head unit as it's often referred to, is the central component of any car audio and video system. The head unit is the brains of the operation providing a wide range of complex functions and features to suit your audio and video requirements. The car stereo's of today are nothing like their predecessors. Packed with an endless array of features such as smartphone integration, Bluetooth, navigation, video, vehicle system monitoring and more, modern car stereo head units are more akin to a fully functional computer system than a simple radio.
The trend of auto manufacturers over the past several years has been to integrate critical vehicle monitoring and driver interaction features into the stock stereo head unit that comes with your vehicle. Features like tire pressure monitoring, engine monitoring, oil change reminders, lighting and alarm settings have increasingly been built right into the stereo head unit of your car. As a result, the days of just swapping out your stock stereo with a new Pioneer or Alpine stereo have come to an end. In order to improve your car stereo's performance or add missing features like iPhone integration or improved navigation capabilities, today's modern cars require sophisticated integration systems installed and configured by highly trained professionals.
Thankfully the aftermarket stereo industry is still thriving. All of the traditional aftermarket stereo manufacturers and a host of new car audio tech companies have developed a wide range of stereo integration kits and computerized controllers to meet the demand of the stereo enthusiast. At Apex Customs, our Mobile Electronics Certified Professionals are the best in the business trained to design a system that will meet the needs of your car stereo project.
Why should I invest in a new car stereo?
Today's sophisticated head units will provide you better sound with more playback options and advanced features than the stereo that came with your car from the manufacturer.
Enhanced Sound Quality
Car manufacturers design car stereos with budgets and commonality in mind. The car's they are designing are marketed to a wide range of consumers, most of whom are perfectly fine with paying less for an OK stereo system. Factory car stereos get designed and built with the bare minimum components which will provide their average consumer with a good enough sound and video experience.
Aftermarket stereos provide superior built-in power and enhanced circuit design. An aftermarket car stereo isn't just louder than the typical factory stereo; it also produces cleaner, richer, more detailed sound. For car audio enthusiast looking to spend a little more money on enhanced tone controls in the preamp section and more juice to power their speakers for that clean, crisp sound they're looking for, the aftermarket stereo head unit is just the ticket.
​New Sources and Added Functions
One of most common reasons people look at replacing or upgrading their factory car stereo is to expand functionality. An aftermarket stereo system can provide additional advanced features that were included by the vehicle manufacturer. Some of these features include:
MP3/WMA/AAC playback
iPod® and iPhone® support
Mobile Internet
Support for Android™ phones
Satellite radio
DVD playback
Bluetooth® connectivity
GPS navigation
Support for Pandora® Internet radio and other app-related sources
Advanced car monitoring and OBD-II capabilities​
Beyond the basic features listed above, there is a huge selection of vehicle apps available in the Apple and Android app marketplaces. In fact, there is a variety of aftermarket head units available today that run on the Android operating system allowing you to easily install and uninstall apps right on your car stereo.
Replacing your car speakers is one of the quickest ways to improve the sound quality in your car. In an effort to keep vehicles affordable for consumers, auto manufacturers use single driver, paper cone speakers with small magnets that simply don't perform for even the most relaxed audiophile. Before you decide on your new speakers, there are a few things to consider when shopping for car speakers.
Choose Speakers to Match Your System
The two most important specifications to understand when choosing your new car speakers are:
Sensitivity is a measure of how much sound a speaker produces from the power that is applied to it. If you using a low-powered car stereo (15 watts RMS per channel or less), similar to most factory speakers installed by the car manufacturer, a speaker with high sensitivity (over 90dB) is the best match. However, if you have a high-powered stereo with 16 watts RMS or more, like most aftermarket car stereos or amplifiers, then a lower sensitivity rating is a better match for your setup. When properly powered, low sensitivity speakers will provide exceptional sound quality.
A power-handling rating indicates how much power (measured in watts) a car speaker is able to handle. With low-powered stereos, speakers don't need the ability to handle a lot of power. However, if you are adding after-market amplifiers or a higher powered aftermarket head unit, speaker power-handling will become an important consideration. When adding more power to your car audio system, you need to match your speakers with the output of your new amplifiers and head unit.
When evaluating power-handling, the key specification is maximum RMS power handling, not peak power handling. While peak power handling is a measure of what a speaker can handle for brief periods of time during high music notes, RMS power is a measure of how much power a speaker can handle on a continuous basis. If you need any help calculating the power handling you need, check out our car audio calculators page.
Car speakers come in two main flavors: full-range speakers and component speakers. Here is a brief explanation of the differences in these speaker types:
A Full-range speaker combines different sizes of drivers into one speaker to cover a full range of sound. The full-range speaker contains a woofer to handle the low sounds and a tweeter mounted just above the woofer to produce the high sounds. Some full-range speakers will include midrange drivers and additional tweeters to provide a wide range of sounds delivered to the most capable driver. The audio signals in full-range speakers are controlled by various capacitors and resistors to send specific sound frequencies to properly sized drivers.
Full range speakers are a good choice when you are looking for the least hassle for replacing factory speakers. Full-range speakers come in a variety of sizes and specifications and are generally a direct replacement which reduces labor to install them. Generally, you can just swap the factory speaker out with the new speakers and call it a day. As with any audio gear, full-range speakers come in a variety of materials, build quality, and power handling ability.
Component speakers are the choice of true audiophiles. They provide superior speaker design and the best quality of sound. Typically component speakers separate the tweeters from the woofers and include an external circuit board crossover system to provide the best frequency filtering available. This provides superior sound quality by ensuring the best driver for the sound is utilized.
Another benefit of component speakers is they allow you to mount tweeters separately from the woofers so you can design a system that has ideal acoustical positioning and imaging. When you position speakers properly in your vehicle, your music will have a realistic sound that replicates music as the artist intended. The sound will have greater depth and will provide a "live" sound as if you were attending a live concert. Additionally, the component speakers are generally built from higher quality materials than their full-range counterparts allowing them to deliver exceptional dynamics and detailed sound.
The best material for the woofer of a component speaker or full-range speaker should consist of material that is lightweight, yet stiff in order to produce the low notes of your music. Most car audio manufacturers build their woofer cones from synthetic fibers such as polypropylene which perform well across a range of frequencies. If a speaker is made out of polypropylene mixed in with additional materials like mica, the result is a stiffer woofer which produces a more accurate bass response. Woven fibers, or synthetic materials coated with metals such as titanium or aluminum, are lightweight, strong, and provide excellent response. All of the above materials stand up well to moisture, cold, and heat.
The materials used to manufacturer tweeters has a significant effect on the sound they produce. Generally, when a tweeter is made of soft materials like silk, textile, or poly blends, it will produce a mellow, refined sound. If you prefer high frequencies that are snappy and crisp, then a better material for your tweeter are hard materials like metal, graphite, or ceramics.
The materials that surround the woofer of a car speaker perform a critical role. These materials allow the woofer of a speaker to emit bold bass and move freely. The material must be able to withstand extreme humidity and temperature. If the surround material is made of rubber, the speaker will perform at its peak potential and last the longest. If cloth or foam is used as a speakers surround, the speaker will still perform well but may not hold up very long.
Additional Speaker Features
There are a few other features when it comes to car speakers that are important to consider.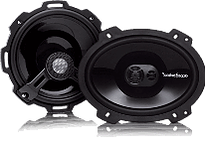 Swiveling and Pivoting Tweeters
If you are replacing factory speakers that are positioned low on your vehicle's door, pivoting tweeters or full-range speakers can make a big difference with your sound. By their nature, tweeters produce directional high-frequencies. This feature allows pivoting tweeters to be positioned to point toward directly at the listener for an improved soundstage.
Component speaker systems generally employ a passive external crossover system which will achieve a clean separation between the frequencies sent to the tweeter and woofer. By splitting the frequencies, the tweeters and woofers will not waste electrical energy attempting to reproduce frequencies they are not intended to reproduce. As a result, your car audio sound system will produce a more efficient, and cleaner sound reproduction.
Some speakers feature detachable tweeters which allow the speaker to be used either as a component system or a full-range speaker. This is a helpful solution if you ever want to use the speakers for a different application or in a different car or truck.
If I replace my car stereo, will I lose my steering wheel controls?
Aftermarket car stereo manufacturers often provide a special adapter for steering wheel control integration on most car models. Typically these special adapters are an additional add-on to your stereo purchase so it's important to factor that into your budget.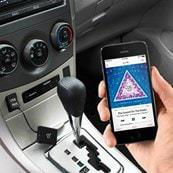 How do I connect my iPhone or MP3 player to my stereo and what's the difference between an aux cable vs a USB connector?
Just about every aftermarket car stereo available these days will include some form of smartphone or MP3 integration. The most common integrations are the auxiliary plugin, Bluetooth, or USB.
The auxiliary option is typically a standard 3.5 mm cable that you plug into the new car audio receiver and your devices headphone jack. This is a basic option that only provides a sound output through your car speakers without any additional integration features. The downsides of an aux plugin are they tend to transmit background and system noise. Additionally, you will have to control the music from the device itself which is a safety hazard.
Bluetooth has been growing in popularity as the desired smartphone integration solution and has almost become standard in almost all OEM and aftermarket stereo systems. There are several benefits to Bluetooth which include the wireless nature of the integration, telephone integration allowing you to make and place phone calls through your car stereo (provided your stereo incorporates this feature), autoplay features which allow your stereo to automatically start playing your music when you get in the car, and the elimination of line noise. The downsides of Bluetooth include lack of playback controls and a loss in audio quality.
Integrations through USB provide the most features and sound quality of all MP3 car stereo integrations. USB benefits include device charging, enhanced playback controls, smartphone app integration, and enhanced sound quality. A USB connection allows you to control the music on your device from your stereo interface including common music apps like Pandora. It also allows for digital sound to be transmitted from your device to your stereo rather than the analog signals provided by the AUX cable. The downside of a USB integration is it requires your phone to be physically connected to your stereo through a cable.
How much power do factory car stereo systems have?
Factory stereo power ratings vary widely and depend on a range of factors. If your car comes with a premium car stereo package, you most likely have some form of external OEM amplifier in your vehicle. Aftermarket car stereos, without a doubt, provide more power than the majority of factory car audio systems.
One factor to keep in mind while comparing care stereo specifications is a typical 100-watt factory car stereo system described by your car dealer most likely consists of 4 channels of 25-watt peak power. This translates roughly to 10 watts RMS (continuous) power per speaker. While not bad for a factory system, this is a far cry from even the lowest budget aftermarket car stereo's on the market.
If you need help calculating the wattage for your stereo, check out our car audio calculator page.
How much power should I be looking for in an aftermarket car stereo in order to get optimum sound and performance from my car audio system?
While there are no magic formulas for calculating your optimum stereo wattage, the general rule is to match your power output with your speakers recommended wattage. If you put too much wattage to your speakers, the speakers will distort. Additionally, pushing more power to your speakers than they can handle is the quickest way to ruin your speakers rendering your new investment worthless. On the flip side, if you underpower your speakers, you'll be leaving audio performance on the table and the speakers won't provide the richness and depth of sound you're looking for.
Before making a final decision on your car audio power needs, there are a few items to consider:
How efficient are your speakers? The speakers you choose have a direct influence on the overall power throughout your system. If your plan is to power your speakers only with your stereo head unit, power efficient speakers that have a sensitivity of 90 dB or high will provide you more performance for your money. If however, you plan to install high-performance component style speakers, your best option would be to invest in an external amplifier to power your speakers.
Do you plan to add a subwoofer to your car stereo system? Subwoofers require a substantial amount of power in order to reproduce low tones at reasonable volumes. Therefore it is always best to include an external subwoofer amplifier to power your subwoofers. You can either power your subwoofer with a dedicated amp that incorporates high-frequency audio filtering designed specifically for subwoofers, or you can get a full range amplifier to power your entire system.Due to the fact that subwoofers require substantially more power to perform optimally, you should plan to provide the same amount of power to your subwoofer as your other speakers at a minimum. For example, if your car stereo provides 80 watts of power to your speakers (4 x 20watts), then plan on providing at least 80 watts of additional power to your subwoofer.
Another factor to consider is how good your stereo wiring is. Electrical connections are only as good as their weakest link. If you have old, spotty wiring, you run the risk of shorts, frequency and power loss, and high resistance to your power and speaker wiring that reduces the amount of power your speakers actually receive from the stereo head unit and amplifiers. If you have an older vehicle or plan to install a high capacity audio system, you should consider factoring in running new larger gauge wiring to your components into your budget.
A final important consideration is your vehicle's environment and how you plan to use your car stereo system. If your vehicle is a lower model or sports car, car manufacturers often use little to no sound dampening materials which result in more road noise and potential sound loss. In this case, you'll want to provide a little more juice to your car stereo system to offset any sound loss and overcome road noise. If however, you drive a luxury vehicle that incorporates more sound dampening material, you won't need to provide as much power to get the same sound volume and quality.Speaker location, road/car noise, dampening materials, and personal tastes are all factors to take into consideration when deciding the amount of power to incorporate into your car audio build. If you need help calculating the wattage for your stereo, check out our car audio calculator page.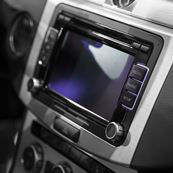 My car has a large factory radio, why can't I replace it with an over sized aftermarket stereo?
Large car stereo head units come in two different sizes. One size is 3″ tall (or DIN-and-a-half) which are commonly found in GM and Chrysler vehicles. The other is 4″ tall (or double-DIN) which are found in most other cars and trucks.
If your vehicle's dash opening is different by even a slight fraction of an inch from standard oversize openings, you won't be able to install an oversized aftermarket stereo without modifying your dash. As an example, most Fords appear as if they can accept a double-DIN radio without issue, however, in reality, the dash opening is too small.
What are preamp or RCA outputs?
A preamp output often referred to the brand name RCA, is a preamplified audio signal output which allows you to connect one or more external car audio amplifiers. These cables provide low distortion audio signals for amplifiers and are commonly used to provide the audio signal for subwoofer amps. The subwoofer preamp output is important to your car stereo because it provides your system with cleaner low frequencies as opposed to standard line level stereo outputs.
What's the difference between RMS power and peak power?
When car audio manufacturers display peak power in their advertising they are referring to the amount of power that a car speaker can handle during a brief musical burst. RMS power handling, on the other hand, is a much more reliable rating to use when determining the speaker's power requirements and capacity. Power for speakers is measured in watts. A watt is a unit of electrical power that equals one-volt times one amp and signifies energy consumed by the device.
What does a car speakers sensitivity rating signify?
The sensitivity rating also referred to as an efficiency rating, is used to rate the effectiveness of a car speakers ability to convert power into audio sound. The higher the sensitivity rating, the more efficient a car or truck speaker is and converting energy into sound. As a result, a higher efficiency rating means a louder speaker at the same power input. The more efficient a speaker or subwoofer is, the more power you need from your amplifier.
Efficient speakers and subwoofers help you to maximize your power capacity. Most sensitivity ratings measure a speaker's output with one watt of input that is one meter from the driver. Some sensitivity ratings of a speaker are measures using 2.83 volts of input rather than one watt.
Efficiency is not an accurate indicator of a speaker or subwoofer's output capability. Efficiency should not be used to compare other speakers and subwoofers to determine which is louder than the other.
I installed an amplifier in my car, and now my lights dim when my subwoofer hit's low notes or I play my stereo loud. Why is that?
When vehicle lights dim after a subwoofer installation, it is an indication that your amplifier was not installed properly. Dimming lights mean the amplifier is not able to draw the power required from your car's electrical system to perform as intended. There are a few things to check if your vehicle is experiencing this behavior:
Make sure the power and ground wires that you used to connect your amplifier to the battery and ground are the proper gauge. The ground wire needs to be at least as large as the power cable if not larger.
Check your ground wire connection to the body of your car. Make sure the ground wire is firmly connected to the vehicle's body and all paint has been removed from the area where the cable is in contact with the car. You want a metal to metal contact for your ground wire to ensure the electrical return to the battery has the least resistance possible.
In addition to the power and ground cables to the amplifier, you may also need to upgrade the wire that connects your car or truck battery to the frame and the wire running from the alternator to the battery. This is often referred to as the BIG 3 upgrade in the car audio world.
If your lights still dim after checking all of the above connections and cables, then you most likely need to explore adding a capacitor between the battery and the amplifier to provide a reserve of stored energy for those serious bass notes. You should also consider looking into a larger or high output alternator to accommodate the increased electrical energy needed to run all of your electronics.
I installed an amplifier in my car, and now my lights dim when my subwoofer hit's low notes or I play my stereo loud. Why is that?
When vehicle lights dim after a subwoofer installation, it is an indication that your amplifier was not installed properly. Dimming lights mean the amplifier is not able to draw the power required from your car's electrical system to perform as intended. There are a few things to check if your vehicle is experiencing this behavior:
Make sure the power and ground wires that you used to connect your amplifier to the battery and ground are the proper gauge. The ground wire needs to be at least as large as the power cable if not larger.
Check your ground wire connection to the body of your car. Make sure the ground wire is firmly connected to the vehicle's body and all paint has been removed from the area where the cable is in contact with the car. You want a metal to metal contact for your ground wire to ensure the electrical return to the battery has the least resistance possible.
In addition to the power and ground cables to the amplifier, you may also need to upgrade the wire that connects your car or truck battery to the frame and the wire running from the alternator to the battery. This is often referred to as the BIG 3 upgrade in the car audio world.
If your lights still dim after checking all of the above connections and cables, then you most likely need to explore adding a capacitor between the battery and the amplifier to provide a reserve of stored energy for those serious bass notes. You should also consider looking into a larger or high output alternator to accommodate the increased electrical energy needed to run all of your electronics.
What is car amplifier clipping?
Amplifier clipping is when the amplifier produces distortion in the sound it produces due to a lack of sufficient power. When a car amplifier is pushed beyond its max power handling capability, the amplifier will produce square sound waves which in turn produces in distortion. In some cases, prolonged car amp clipping can result in a fried amplifier.
What is car audio sound dampening material?
Sound dampening material, commonly referred to by the brand name Dynamat, is a specially engineered material that can be placed on car panels, behind car speakers, in trunks, and car floors to help reduce road noise and panel vibrations. Auto manufacturers use sound dampening material to improve the ride quality of your vehicle and cut engine noise down in the cab. Luxury cars will often use thicker sound dampening in more places to provide a quiet, luxury ride.
We are strong advocates of sound dampening materials at Apex Customs Phoenix. When you're making an investment in quality audio gear, adding even a small amount of sound dampening material to your installation can result in a significant improvement in the sound quality produced by your new gear.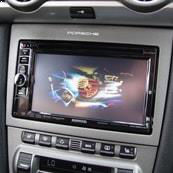 Do I have to replace my factory radio to improve the sound quality of my car stereo?
The short answer is no. There are a wide variety of options to improve the quality of your car audio sound. You can swap out factory speakers, add external amplifiers or add sound dampening material to provide real improvements to the quality of your stereo. In some instances simply adding new sources like iPhone inputs or bluetooth can provide all the improvements you need.
When interfacing with a factory car stereo, it is critical that it is done properly. Today's modern stereo head units provide a significant amount of integrated features with your vehicle. If aftermarket stereo parts are not integrated properly, you can cause significant damage to your cars computer system.