Set Your Tesla Apart from the Crowd
Tesla's are a sleek, modern, and sophisticated car packed with features and modern amenities that any car enthusiasts would love to get their hands on. From their sporty styling to their jaw-dropping 0-60 times, a Tesla is a one of a kind ride that garners attention and admiration. As the car grows in popularity, however, it can be challenging to set your Model S, X or 3 apart from the crowd. Like many cars on the road today, Tesla's have a bit of a generic-look to them. Because aerodynamics dictate a good portion of the shape of body panels and all cars (design, features, standards) are built to a certain percentile so that they appeal to the largest number of people. For many, that standard combination is good enough. But for a significant number of vehicle owners, customizing a car is a rite of passage for each and every car they own.
At Apex Customs, we've worked on more than our share of Teslas. Our technicians have the experience and expertise to take your Model S, Model 3, or Model X to a whole new level of sophistication and class. We offer a complete line of personalization and customization options to make your car distinctive, yet reflective of your personality. Apart from our passion for all things with wheels, our collective experience as a team understands the unique needs of every owner and vehicle. Every job is performed with an attitude for excellence and attention to detail, keeping in mind the owner's vision for his/her car, truck, or SUV.
Vinyl Wrap
Window Tint
De-Chrome
Emblem Customization
Paint Protection
Wheels & Tires
Upholstery
Our most popular Tesla customization offerings include vinyl wraps, smoked tail lights, clear bra paint protection, wheel upgrades, interior and upholstery upgrades, window tinting, and vinyl graphics. Your Tesla is a candidate for any of those customizations. While Apex Customs does engine and suspension upgrade work, the upgrade trend, especially for Generation Y, seems to be more toward personalization and customization, rather than performance upgrades.
A study by Chrysler showed that up to 49% of new car buyers are keen to personalize their vehicles. Unlike our competitors, Apex Customs specializes in custom work and high end builds. We are not an auto paint shop that pumps low-quality paint jobs out for insurance work. We work on the best, the classics, exotics, street rods, show cars, and race cars. We are a one-stop automotive customization shop that does everything you need to build or restore the ride of your dreams under one roof.
If you're looking to take your Tesla to a whole new level of cool, restore your ride to its former glory, or just add some custom flare, we've got you covered. We can source even the hardest parts you need, rebuild, protect and customize your Tesla to your specifications and desires. We offer Tesla customization, repair, and modification services to Phoenix, Tempe, Scottsdale, Mesa, Glendale, Gilbert, Chandler and surrounding areas in Arizona. Contact us now for a custom quote!
Tesla Modification Services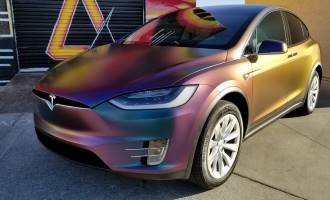 Vinyl Wrap is one of the most requested modifications we get for Teslas. Wrapping your Model S, X, or 3 not only allows you to change the color of your vehicle while protecting the paint underneath, it is also affordable and does not run any risk of voiding your Tesla warranty. Vinyl Wrap provides a wealth of color options, colors, patterns, and finishes. You can choose to wrap the entire car, do a partial wrap of just the hood or roof, add racing stripes, or even just wrap a few individual parts. Car wraps provide excellent protection against the Arizona sun and are removable if you decide to change colors down the road.
To learn more about vinyl wrap, visit our vinyl wrap page by clicking here
Tinting your car windows has long been a first step towards customizing your Tesla. It shades you from the heat, aids the car's air conditioning efficiency, and provides privacy. You can choose from a variety of shades and darknesses as well as film quality. The more expensive films are more effective at blocking heat and interior damaging UV rays, as well as carry a longer manufacturer warranty. All tints look good when new, but continuous exposure to heat and sun will have your windows becoming hazy in a year or two when an inferior film is used. Window tint film can be applied to as many windows as you would like. The more coverage you have, the better the protection from the sun you will enjoy.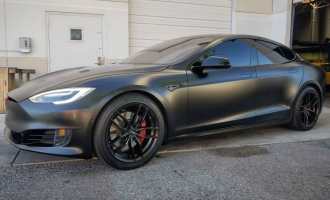 Tesla De-Chrome - Chrome Delete
The chrome delete package is the most popular customization we offer for Teslas. While some Tesla owners prefer the chrome styling, there are just as many who prefer to cover it up. A De-Chrome can be accomplished a few ways. The most expensive chrome delete package entails our technicians removing all of the chrome pieces and having them professionally sanded and painted. While this method is the most durable, most Tesla customers choose to have their vehicle's chrome wrapped in gloss or matte vinyl wrap. Vinyl wrap is most cost-effective and allows you the option to remove it down the line if you choose to sell the vehicle or have a lease return.
Let's face it, Tesla's are expensive. When you make such a large investment in your vehicle, protecting it from bugs, road spray, scratches and debris that can mar your finish should be at the top of your list! Paint Protection Film, or Clear Bra, is an effective solution for keeping your Tesla's expensive paint job safe from the elements. There are a variety of Paint Protection Film options you can choose from depending on your budget and how much of the vehicle you want to protect. The film is extremely durable but also very challenging to install properly so let the experts at Apex Customs take care of your vehicle's paint.
To learn more about paint protection film, check out our clear bra page by clicking here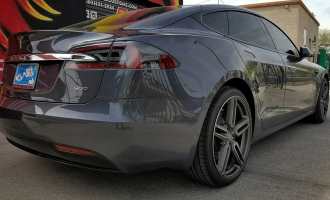 Ceramic Pro is the ultimate treatment for your vehicle's finish. While Paint Protection Film is excellent at protecting your Tesla from small rocks and road debris, Ceramic Pro will add a layer of protection that no other product can match! A Ceramic Pro coating on your Tesla will act as an additional clear coat with three times the protective properties of the OEM clear coat finish. Ceramic Pro is a nano-ceramic coating technology which forms a permanent bond with the surface that will not wash off or break down. Ceramic Pro's 9H can only be removed by abrasion, it is a highly durable protective coating that will protect your paintwork from damaging contaminants for many years. Ceramic Pro can be applied in multiple layers which means the thickness of the coating can be increased with additional layers allowing a thicker/harder coating with improved scratch resistance.
Tesla Body Kits and Spoilers
Make your Tesla unique by adding a full body kit, or a selective combination that suits your taste and budget. Tesla body kit upgrades can include spoilers, fascia's, bumpers, bumper inserts, diffusers, side sills and skirts, light frames, custom door handles, and wing and trunk lid pads. At Apex Customs, our expert technicians can install any aftermarket body part or kit you have your eye on. If you're not sure what to choose, give our sales team a call and they can walk you through all of your options.
To learn more about body kits and aftermarket parts installation, visit our body kit page by clicking here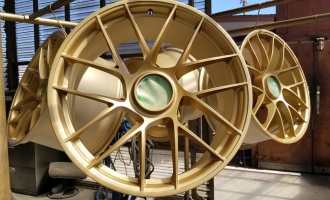 Tesla Aftermarket Wheels & Tires
Aftermarket wheels and/or tires will have one of the greatest impacts on the aesthetics of your Tesla. Bigger wheels are distinctive, and the designs available can make you dizzy with the endless array of choices. At Apex Customs we can source wheels from any supplier or manufacturer you have your eye on. If you're not sure where to start, our sales team can walk you through your options.
If you're looking for a performance improvement for your Tesla, performance tires should be your first investment. With higher performance tires, you will enjoy superior braking and handling. Whether you want to keep your stock wheels or upgrade to an aftermarket set, we can pair performance tires with any setup you desire.
To learn more about aftermarket wheels and performance tires, visit our wheel and tire page by clicking here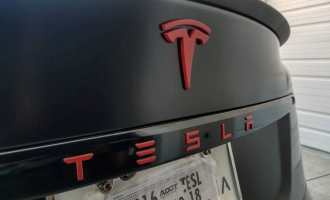 Tesla Emblem Customization
Emblem customization is another popular customization request we get from Tesla owners. Adding a subtle custom flare to your emblems is a great way to make your model S, X or 3 unique without breaking the bank. At Apex Customs we offer a wide variety of options for customizing your emblems. We can swap your emblems for a custom aftermarket set, wrap your OEM emblems in any color or style of vinyl wrap you choose, spray your emblems in a custom liquid vinyl color, or even professionally paint them to match your Tesla's OEM color. clicking here
Another simple way to personalize your Tesla would be to spring for smoked taillights. Overly vivid taillights can be an eyesore if you're looking for a stealth effect for your ride. Smoked taillights are easily replaceable, so you can preserve your OEM units for when you sell the vehicle, or simply want to go back to your original lights. At Apex Customs we offer a variety of options for smoking your tail lights. The most durable option is to have your taillights professionally painted by our paint and body experts. If you're looking for a non-permanent option, we offer a custom tint overlay product which is installed similarly to vinyl wrap and standard window tint. While this option is not as durable as a professional paint application, the film used to smoke your taillights can easily be removed.
Tesla Suspension Upgrades
If you're looking to improve the performance, handling, and style to your Tesla we have your covered. A suspension upgrade offers a number of benefits and is an excellent way to stand out in the Tesla crowd. The most popular Tesla suspension upgrade is a lowering kit. Lowering kits will give your Tesla a killer stance and look that will instantly grab attention. Additionally, by lowering your car's center of gravity, your Tesla will have enhanced cornering capabilities so you can hit those streets with confidence. If you want the ability to change the ride height and tune the suspension of your Tesla, Apex Customs also offers full Coilover and airbag kits.
In addition to lowering, we also offer lift kits. If you're Model X needs a little more clearance, Apex has you covered. Our team of technicians can install these upgrades, tune them, and hand off your ride to you with a new look and feel. If you'd rather upgrade incrementally, then bushings, sway bars, springs, and shock are a viable option.
To learn more about our suspension offerings, visit our suspension page by clicking here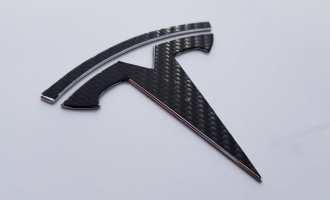 Carbon fiber customization can range from simple parts like interior trim or external body add-ons like spoilers and hoods. While Tesla's feature aluminum body panels which are carbon fiber fenders, and hoods will still result in weight savings and performance improvements. Carbon fiber not only offers stiffness and strength at a lower and lighter density than aluminum and steel, but it also looks fantastic. Carbon fiber offers a sporty, high-end look that no other product can match.
To learn more about our carbon fiber offering, visit our carbon fiber page by clicking here
Tesla's offer some serious performance and 0-60 times straight from the dealer. That performance can get you into trouble if you don't have some serious braking power. A brake upgrade is an excellent way to improve the safety and performance of your Tesla. Brake upgrades can be anything from stainless steel braided lines to a wholesale replacement of performance calipers, rotors, and pads. The ultimate setup would be a carbon rotor with carbon pads and six-pot calipers. But you have to evaluate your need for such a setup.
Carbon rotors with their attendant hardware are for racing applications and cost a pretty penny. If you think your Tesla needs a little more stopping power, start with performance brake pads and stainless steel braided lines. Together with a high-performance brake fluid, these cheap brake upgrades will produce a noticeably significant improvement.
To learn more about our performance offerings, visit our performance page by clicking here
While Tesla does a decent job with their upholstery options, there is always room for improvement. Whether your tired upholstery needs a refresh, your seat needs a repair, or you're looking for a true custom look, our upholstery experts at Apex Customs have you covered!
Our upholstery team can build and install and upholstery project you bring us. We can swap seat covers with some pre-fabricated custom covers from suppliers like Alea Leather , Katzskin, or Roadwire . We can wrap door panels, dashboards, wrap steering wheels, replace carpets and seats, or even fabricate and install custom seats covers and panels. We can also add custom stitching, custom seat patterns, wrap your headliner in Suede, and even install seat warmers and coolers!
Apex Customs has your Tesla upholstery project covered from A to Z. To learn more about our upholstery offerings, visit our upholstery page by clicking here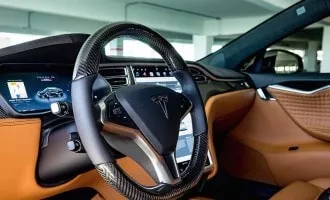 The interior is where you spend the majority of your time in your Tesla, so it's one of the best places you can invest in some custom upgrades. From gearshift knob replacements, vinyl wrapped trim, and carbon fiber accents, the expert technicians at Apex Customs have you covered. If you're looking for some interior upgrade ideas for your Tesla, give our sales team and call and they will walk you through a plethora of options to choose from.
The current Tesla lineup consists of the Model S, the Model X, and most recently launched the Model 3. With these three models, Tesla has entered the popular and more competitive segments of the automotive market. The Tesla Roadster, which launched Tesla as a serious contender in the automotive market, is currently not available, but set to return for the model year 2020. All Tesla vehicles are electric, driven by motors attached to single-speed transmissions. A high capacity rechargeable battery pack provides the power to drive the motor.
The Tesla Model S is a 4-door saloon available in 2WD or AWD configuration. The top of the line Model S, the P90D, can go almost 300 miles on a full charge, yet is capable of blasting other cars at the stoplight with a 2.8-second 0-60 mph acceleration time. Ludicrous indeed.
The Model S is in the price range of a Mercedes CLS, BMW 6 series, Audi A7, or an Infiniti Q70. As such, it has the features one would expect in that class of luxury car. Tesla has equipped the 2018 Model S with optional AWD (all-wheel drive), stability and traction control, ABS, regenerative braking, a full complement of airbags, proximity key, collision and lane departure systems, a restricted driving mode, perimeter alarm, and side impact beams, to name but a few features.
The interior features wood trim, dual zone air conditioning, heated seats, valet function, speed sensitive wipers, device integration, a multi-channel voice-activated entertainment system, and a large multifunction display on the central console. There's also the air filtration system that is rated for bioweapons. Just in case an apocalyptic event occurs and you happen to be in your Tesla driving in autopilot mode.
The electrical system and drivetrain are warranted for 8 years, with no mileage limits. Despite the steep price of entry, the Tesla Model S is value for money.
The Tesla Model X is the company's contender in the lucrative SUV market, able to transport up to 7 people over varied terrain. The Model X is equipped with AWD, and its acceleration times from 0-60 mph (at 3.3 seconds) is something no SUV should be capable of.
The most striking feature of the Model X is its gullwing doors, but acceptance has been mixed. Though mixing it with summon mode and opening the doors is a surefire way to invoke some awe and envy. Aside from the doors, one of the often-mentioned features of the Tesla Model X is its expansive windshield which extends up to the front seat headrests. Talk about a panoramic view.
The Model X has practically the same feature list as the Model S and cost of entry for the cheapest variant will set you back 80,000 dollars. As a practical SUV, its cargo capacity has been rated as very good, though the non-folding 2nd row seats have been criticized. For someone seeking an SUV for use in the urban jungle, the Model X is a great choice. Just don't expect it to handle as well offroad vehicles when the road turns rocky. The Tesla Model X has practically the same drivetrain and platform as the Model S.
Tesla's newest entry into the electric vehicle market is the Model 3. The Tesla Model 3 is the company's attempt to penetrate the sports sedan market. Tens of thousands more affordable than it siblings, the Model 3 drives and feels like a racy European sedan. Not well known is the fact that Tesla has used a new electric motor design, which is smaller yet able to give the power of the motors used in the S and X models. It also has a glass roof like the Model X, which surprisingly reflects enough heat to not bake the occupants on a sunny day.
One complaint is that it feels deceptively small, so new owners are more often than not likely to get curb rash on their wheels. The Model 3 has most of the features of its siblings in the lineup, although Enhanced Autopilot is a 6,000 dollar option as of this writing. But, it has haptic feedback when you change lanes, has a brake hold system, and a forward collision warning and avoidance system. As a sporty and compact alternative in a contested market, the Tesla Model 3 is a serious contender.
As you probably know Tesla's supercharger stations are now widely spread, and can charge your Tesla vehicle in the time it takes to take a snack. So, concerns about range and running out of juice are largely a thing of the past. Take that road trip you've been wanting to do in a Tesla.
Common Tesla Customizations
Customization and Personalization
There are now enough Tesla vehicles on the road to warrant extensive aftermarket support. Not all customization options for a Tesla need a clean sheet to be produced. For example, tire sizes for the standard wheels are commonly produced, and one can choose a tire more suited to the season or environment. With Tesla owners, the more common upgrades seem to be dashcam installations, vinyl wrapping chrome trim (de-chrome or chrome delete), matte vinyl body wraps, speaker and subwoofer upgrades, charge port modifications, carbon fiber trim packages, and center console modifications. Wireless charging is also popular, as a lot of owners have multiple electronic devices on their person.
Wheel and tire upgrades are always popular. Dustless brake pads have also caught on, as there's nothing more disconcerting than having a nice set of wheels covered in brake dust.
There are also owners who have bulletproofed their car, and owners who have upgraded their batteries to extend range and/or performance. Retrofitting updates from new models to old seems to be a thing with early generation owners.
These include battery upgrades, newer generation software updates, sensor retrofits, and charger upgrades. As Tesla owners and the general public get to know the technology that is in Tesla vehicles, more customizations for these technologically innovative vehicles will be brought to light.
Things to Consider When Customizing a Tesla
Tesla vehicles have been designed and developed by designers and engineers who have committed themselves to electric vehicles, and who have thought out of the proverbial box. For this reason, not all traditional upgrades are warranted nor desirable when customizing a Tesla.
Consider too that Teslas, while capable of beating Hellcats and Ferraris at the drag strip, are not sports cars in the traditional sense of the word. So when customizing a Tesla, aesthetic and functional improvements are the better way to go. Where air dams, wings, and spoilers do make a car distinctive and racy, consider that Teslas have very low coefficients of drag, and adding these appendages may actually make your car less efficient.​
Will Modifying My Tesla Void My Warranty?
The Magnuson-Moss Warranty Act implemented by the Federal Trade Commission expressly prohibits vehicle manufacturers and dealers from voiding your vehicle's warranty or denying coverage under warranty simply because you used an aftermarket part. While manufacturers and dealers are known to deny claims first and ask questions later, it's illegal for them to void your warranty simply for modifying your vehicle. In most cases, reminding dealers and manufacturers of this law will resolve disputes. However, at times we've seen legal representation is required to get them to comply.
Apex Customs makes no warranty or promises express or implied that your customization will not void warranties. Each case and circumstance is unique, but in general, the work we perform does not void manufacturer warranties. However, there are some modifications we perform which do in fact void manufacturer warranties. Tesla has a reputation for being incredibly strict with who can access their parts and work on their vehicles. We highly recommend you do your own research, consult with the manufacturer and/or dealer, and in some case even consult with legal counsel before proceeding with a customization if you are concerned about a warranty loss.