No custom automotive project is complete without a set of aftermarket wheels and some new rubber shoes for your ride. At Apex Customs Phoenix, we offer a wide range of custom aftermarket wheels and performance tires to give your car, truck, or SUV the truly custom look you've been dreaming about. At our full-service wheel and tire shop, our sales team will help you to select the perfect aftermarket wheel and tire setup for your ride and our wheel and tire technicians will professionally mount, balance, and install your ride's new shoes.​
Unlike our competitors, we specialize in aftermarket wheels and performance tires in our Phoenix tire and wheel shop. We can create any custom wheel rim and tire package you want to build for your custom ride. If you have a specific brand or style of wheel you're interested in, our sales staff can source the wheels for you at our discount pricing and match them to any performance tire on the market. We can even customize your new wheels to match the exact look you're going for. We can change the color of your wheels, add some vinyl stripes, get them CNC machined to add a custom pattern, just about any custom wheel modification you can dream up.​
Apex Customs, offering full-service wheel and tire installation and customization services for the Phoenix, Tempe, Scottsdale, Mesa, Glendale, and surrounding areas. Contact us today and let our sales team know what vision you have for your custom wheel and tire project and we will provide you a customized quote backed by the best customer service, workmanship, and pricing in the wheel and tire industry.
Wheels & Rims
Performance Tires
Wheel & Tire Packages
Performance Brakes​
Give your vehicle a more aggressive look by lowering the suspension. Lowering will also help eliminate unsightly factory wheel gap and helps improve your cars handling and ride characteristics.​
Aftermarket Wheel and Rims
In the market for a new set of aftermarket wheels? At our Phoenix full service wheel rim shop, we can source and install a new set of custom wheels in any size and design you desire. Apex Customs has partnered with MHT Wheels, Wheel Specialists, and the Wheel Group to provide you with a wide range of custom wheel options for your car, truck, or SUV. Even if you are unable to find the wheel you're looking for at any of these wheel manufacturers, we can source any wheel you're looking for. From 24" chrome rims to smaller cast race wheels, our certified installers have the tools, experience, and equipment to mount, balance, and install any wheel you're looking for.
Unlike our competition who services the average driver with another set of bland tires to get them through another season, our Phoenix custom wheel and tire shop specializes in custom aftermarket wheels that are intended to improve the look and performance of your car, truck, or SUV. We understand custom automotive at Apex Customs and will use our experience, expertise, and industry contacts to put together an aftermarket wheel and rims package that will match the rest of your modifications to build a custom ride that captures the attention of every driver you pass on the road.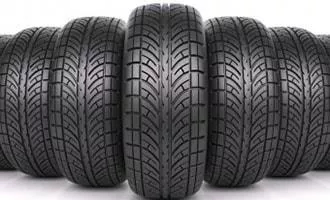 Does your ride need a new set of shoes? The performance gains offered from a performance grade tire are often overlooked by automotive enthusiasts looking to boost the power and responsiveness of their ride. No matter how much horsepower is cranking out of your motor, if your tires don't transfer the power to the pavement, you're leaving performance gains on the table. Engine performance happens when the rubber meets the road. Another benefit of a performance tire investment is the improved handling and grip your car, truck, or SUV will enjoy around the track and highway. There is no better way to improve your cars traction and handling than a tire upgrade.
At our Phoenix performance tire shop, we offer a wide range of tires designed to provide your car, truck, or SUV unmatched performance on the road. Whether you're looking to add a set of track wheels and tires or just upgrade the everyday handling of your grocery getter, our experienced sales staff will help you match the best set of tires to your intended driving application. Our expert installers will mount, balance and install your new set of rubber shoes to factory specs so you can be assured to get the most out of your performance tire investment.
Ready to scrap your entire wheel and tire setup? At our Phoenix wheel and tire shop we can put together a custom wheel and tire package that will complement each other for the best of both worlds in looks and performance. If you're planning to upgrade your wheels to a larger setup, a wheel and tire package is a must. Those factory 17" tires aren't going to fit on your new 24" Rims. Our sales staff can work with you to find the perfect wheel and tire combo that will complement each other to provide your ride with the best combination of wheel style and tire performance.
Does your ride need a little more stopping power? Performance brakes are an often overlooked, yet critical upgrade to any performance car, truck, or SUV. If you're planning on upgrading the engine performance of your vehicle, a matching upgrade to the braking system to handle you new horsepower is an investment you simply can't afford to overlook. If you're not planning on more horespower under the hood but still want to improve the handling, safety and responsiveness of your car, truck, or SUV, a braking system is the perfect investment.
At our Phoenix performance brake installation shop we have the tool, experience, and expertise to install any upgrade to your braking system that you're looking for. We've partnered with several performance braking component manufacturers like Baer, Brembo, Wilwood, Hawk Performance, EBC, and StopTech to provide you a comprehensive selection of performance braking solutions.
Performance Brake Services
Caliper Upgrades
Performance Brake Pads
Performance Rotors
Stainless Steel Brake Lines
Big Brake Upgrades
How to Chose New Wheels For Your Ride
Upgrading your factory wheels to a fresh set of aftermarket alloys is one of the best automotive upgrades you can invest in. Wheels, also referred to as Rims, have a significant impact on the overall appearance and performance of your vehicle. Available in a wide range of colors, sizes, patterns, materials, and performance characteristics, purchasing a new set of wheels can feel like a daunting task. Before you make any final decisions, here are a few key factors to consider while comparing your options.​
Wheels vs Rims
There is some confusion in the automotive aftermarket world on what a rim actually is. Many automotive enthusiasts use the term rim interchangeably with wheel. However, there is a difference between a rim and a wheel and it's important to understand the difference while shopping for new wheels to avoid any mistakes in your purchase. Understanding the difference between a wheel and a rim, how they factor into a single piece vs multi-piece wheels, and the best way to match rims with your tires is an important first step in a successful wheel upgrade.
What is a Rim?
A rim is the outer edge of a wheel which holds the tire in place allowing it to rotate with the remaining hub and spokes of the wheel. The rim is connected to the wheel hub assembly by the spokes of the wheel. Although many car and truck enthusiasts call the entire wheel assembly a rim as a catchall phrase, the rim is technically only the outer edge component of the wheel.
Single-Piece vs Multi-Piece
Wheels are available in single-piece and multi-piece designs. Multi-piece wheels are manufactured as separate pieces, such as the rim, spokes, and hub, and assembled into a single wheel. Single piece wheel designs are manufactured by casting the rim, hub, and spokes together. While single piece wheels tend to cost less than their multi-piece counterparts, they require a complete wheel replacement if any damage occurs. In contracts, multi-piece wheels can be repaired by just replacing one of the components that make up the wheel.
Matching Rims with Tires
The best way to purchase new rims is to match them with a new set of performance tires that will compliment your new wheels. If you're changing your wheel size, like upgrading to a 22" rim from a 19" rim, a wheel and tire package is your best approach. Yovehicle'sles wheel diameter and width must match the inside rim of the tire. If you're not planning on upgrading your tires, be sure to match your new wheels within your existing tire dimensions.
Wheel & Tire Size
Most car enthusiasts are looking to upgrade their wheels while retaining the same overall diameter the of the wheel to prevent any rubbing or suspension issues. This is accomplished by fitting your larger wheels to a tire with shorter sidewalls. A small sidewall tire on a large wheel is a look many enthusiasts prefer, however, keep in mind that a shorter sidewall will impact your vehicle's ride. Shorter sidewalls equate to less shock absorption when driving over cracks and bumps in the road.
When it comes to choosing a wheel size, bigger isn't always better. There is a trend in the aftermarket world to always go bigger, some even take it to the extreme with 26" or bigger wheels. Before you make the decision to go with a larger wheel, there a few things that you need to take into consideration. Larger wheels do look great, but they can have a significant negative impact on your ride quality and car's performance. Larger wheels mean less shock absorption in the tire so be prepared to feel bumps and speed humps. Additionally, and more importantly to anyone the is concerned with vehicle performance, larger wheels result in higher un-sprung weight. Un-sprung weight is a serious detriment to the performance of your vehicle as it causes the motor and suspension system to work harder to rotate the wheels and tires. The result is reduced performance, lower gas mileage, and increased wear on the suspension components.​
Choosing wider wheels has its benefits if your wheel well is larger enough to accommodate the increased diameter. Wider wheels will allow you to use wider tires which offer your vehicle more rubber on the road for better traction. Think of drag racers and their huge tires at the back, more rubber on the road will help you transfer more power to the road surface. There are several ways to accommodate wider wheels including suspension modifications however, be sure to factor in the size of your wheel well before making and wheel and tire purchasing decisions.
Plus Sizing Wheels & Tires
Increasing the size of your wheel and rim's diameter and width in addition to adding a tire with a shorter sidewall is referred to as plus sizing. Here is a table that illustrates an example of plus sizing which will result in more noticeable wheels while enhancing performance.
| Plus Size | Wheel Diameter | Wheel Width |
| --- | --- | --- |
| Original | 16" | 7" |
| Plus One | 17" | 7.5" |
| Plus Two | 18" | 8" |
| Plus Three | 19" | 9" |
Measuring Backspacing
Backspacing size is a critical measurement that you'll need to know when selecting new wheels. Wheel backspacing is measured from the back edge of the wheel to the mounting surface in the middle. It's essentially the distance between the mounting hub and the outer edge of the wheel. Backspacing size will vary depending on your offset. When there is no offset, the mounting surface of the hub will be even with the centerline of the wheel. Positive offset refers to when the mounting surface is closer to the front of the wheel. Negative offset, by contrast, is when the mounting surface is closer to the back of the wheel.​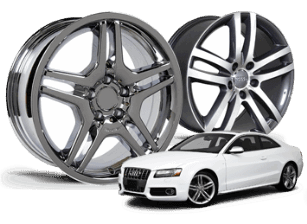 Understanding Maximum Load
All wheels have a maximum weight load they can handle. It's critically important to ensure your new wheels are rated to handle the load of your car, truck, or SUV. In order to determine the exact weight load of your tire, multiply the max-weight that is advertised by the manufacturer by four to get the total weight handling of your wheels. For example, if each of your wheel's load rating is 3,500 lbs, the total load rating for your vehicle would by 14,000 lbs.
​
Determining Bolt Pattern Measurements
Wheel bolt patterns are determined by two things, the number of bolt holes on the wheel and the distance between each bolt. For example, a bolt pattern of 6 x 5.5 equates to a wheel with six holes which are 5.5" apart from each other. The measurement is made across the center of the wheel with the exception of a 5-lug pattern where the measurement is made from the back of the lug hole to the center of the lug hole on the opposite side.
How to Choose the Proper Tire
Choosing the correct tires for your car, truck, or SUV can be a challenging process with the massive selection available on the market these days. If you choose the wrong tire for your application, you will reduce the performance capabilities of your vehicle and potentially put you in danger in bad weather. When you are looking for a new set of tires, you want to start with determining the intended application for your vehicle.​
There are three main categories of tires: summer, winter, and all-season. The average consumer will purchase an all-season tire to keep costs down so they don't have to pay for a summer tire set and a winter tire set. While this approach can provide you a decent, well-rounded performance all year long, there are substantial differences in the needs of a performance tire on the hot pavement vs the icy roads.
Summer performance tires will deliver substantial improvements in handling and dry/wet braking, but they have terrible traction on the snow and ice. Most racecars run on tires that have little to no threads, they have soft flat rubber that will hug the pavement around corners and give you the traction you need when you punch the accelerator. Contrast that to the wet, slippery roads of winter. Imagine trying to drive down a wet or icy road on a set of racing slicks.
Winter tires, by contrast, provide you outstanding snow traction but have poor performance when braking or taking hard turns on clear roads. Winter tires tend to have more aggressive treads which are great for handling rain, snow, and ice, but perform poorly in performance applications. The greater the contact surface with the road, the better the tires will grip the road. Aggressive treads reduce the contact surface of the tire to the pavement which is beneficial in winter, but determinantal in summer.
The first step in looking for new tires is determining the size of your existing tires so you know where to start in the shopping process. Reading your tires size can be a bit cryptic at first glance, but it's actually fairly straight forward once you have the key to what all the numbers mean. Here is a brief guide to walk you through the process.
The wheel diameter measurement signifies the size of wheel the tire will fit on. The size of the wheel is measured across from one end to the other. A size P215/65 R15 tire would fit a 15" diameter wheel. Standard tire sizes, which are measured by width in inches are: 8, 10, 12, 13, 14, 15, 17, 18, 19, 20, 22, 23, 24, 26, and 28.
The construction of a tire is designated by the letter which follows the two-digit aspect ratio. The tire construction designates how the tire is built. Almost every tire sold in the US today is a radial tire which is designated by an R. A radial tire is constructed by the internal body plies of the tire radiating outward from the center. A D represents a bias ply construction which means the internal body plies crisscross in a diagonal pattern in the tire. A B stands for belted tires which refers to internal plies which crisscross similar to a bias ply tire but also include an additional extra layer of reinforced belts in the tread area.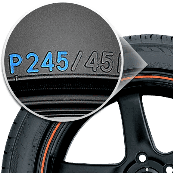 Tire Type is designated by a letter at the beginning of the tire size reading stamped on the side of your tire. There are several letter possibilities designating different tire sizes. Here is an explanation of each letter possibility:
P = P-Metric which are the most common type of passenger tire. The P stands for a passenger vehicle which means your tires were manufactured to be used on passenger cars, minivans, light-duty trucks, and SUVs. (Example: P215/65R17 98T)
LT = Light Truck which are typically found on vehicles that tow which are used to carry heavy loads and tow trailers. LT tires are typically found on SUVs, vans, and medium and heavy duty trucks with a ¾ to to 1-ton capacity. (Example: LT235/75R15 104/101S/C)
T = Temporary Spare which designates the tire is a temporary spare. These tires are also referred to as mini spares and are designed for short-term use only to get you to a repair shop in the case your tire gets a flat. (Example: T145/70R17 106M)
C = Commercial which are tires designated for commercial applications such as vans and delivery trucks capable of carrying heavy loads. Commercial tires are also branded with a load range and service description rating such as B, C, or D. (Example: 31x10.50R15/ C109R)
Blank = Metric / Euro Metric. When there is no letter in front of the tire size stamp, it designates the tires was made in Europe. Euro-Metric tire sizes are equivalent to P-Metrix sizes however, they have subtle differences in their capabilities and load ratings.
The tire width measurement is the tire width from sidewall to sidewall. The first three digits in the number refers to the width of your tires. For example, if your tire reads P215/65 R15, the width of your tire would be 215 millimeters.
The tire aspect ratio is the ratio of the height of the tire's cross-section to its width. The aspect ratio is a two-digit number which is after the slash mark of the tire's size. For example, a P215/65 R15 tire, the 65 designates that the height of the tire is 65% of the width of the tire. The larger the aspect ratio, the larger the sidewall of the tire will be.
The speed rating in the tire measurement designates the top speed at which the tire is rated at. A tire with an H-speed rating for example, has a speed rating of 130 mph. Performance tires typically have a rating of Z which designates a speed rating of 149+ miles per hour.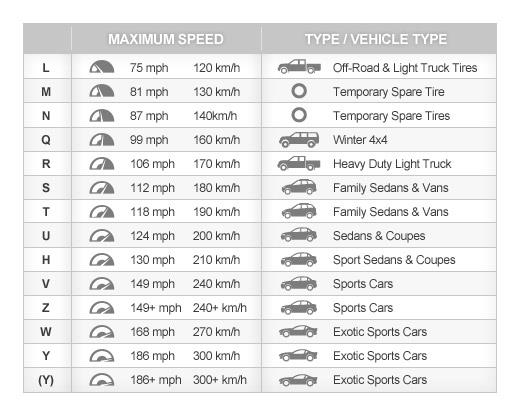 What Style of Tire Do I Need?
When deciding what kind of tire to purchase, tire manufacturers have made it relatively easy by categorizing tires by their intended use. Once you know what size tire you need for your application, the next step is to determine the style of tire you'll need for your intended application. Below is a list of the different tire categories to help you understand the benefits of that each offers.​
All Season Tires: Intended for use year-round, all-season tire attempt to incorporate the benefits of summer tires with winter tires. The typically come with S or T speed ratings and are good for all-weather grip. They are manufacture red to last a long time and are available for almost any mainstream car, truck or SUV. An all-season tire won't provide you high performance in winter or summer applications and is typically not recommended for the true automotive enthusiast.​
Performance All-Season Tires: There is a relatively newer style of tire available on the market that is available on newer sporty vehicles as an upgrade package. These tires are similar to their regular all-season counterparts however, they come with higher H and V speed ratings and tend to have improved cornering grip that S and T speed rated tires. Performance all-season tires tend to wear faster than their non-performance counterpart due to the softer compounds used for improved performance.
Ultra-High Performance All-Season and Summer Tires: Ultra-High performance tires typically come with Z, W, and Y speed ratings and are intended for performance sedans and sports cars. Differentiating between a summer tire and an all-season tire can be challenging and may require researching more details about the tire details. Summer tires typically do not have mud and snow designations on the sidewall.
All-Terrain Truck Tires: All-Terrain tires typically are available in large sizes and are developed for towing and hauling duties. These tires are generally found on light-duty pickups and SUVs and come with more aggress tread patterns for off-road traction. All-Terrain tires general have "All-Terrain" or "A/T" stamped on the sidewall.
Snow & Winter Tires: Snow tires are manufactured to provide improved traction when encountering snowy and icy roads. Snow tires are identified by a snowflake and mountain symbol stamped on the sidewall of the tire. The tread is generally more aggressive than all-season tires with lots of sipes or slits on the tires. Any time you are installing snow tires on your vehicle, you should always do so in a set of 4 to optimize your braking and handling.
When should I replace my tires?
You should replace your tires when the tread on your tires have become too worn. Treads allow your vehicle to stop safely, so it's important to replace your tires when the treads have become too low. Although many people will recommend that tires should be replaced when 2/32nds of an inch is left on the tread, there have been several studies that suggest that on a dry road surface, tires with 4/32nds of tread or less will take a longer distance to bring the vehicle to stop. In wet conditions, your tires have a higher chance of losing traction and an increased risk of hydroplaning. Similarly, it's recommended that tires should be replaced at 6/32nds an inch of tread to avoid reduced traction.
However, age should also be a consideration when replacing tires, as the materials used in production can break down over time. Tires should be regularly inspected for signs of aging. Although minimum industry guidelines recommend inspecting tires every six years and completely replacing them within a decade, most drivers will wear out their tires before this.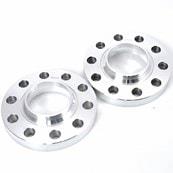 Do I need to use spacers or adapters when installing aftermarket tires?
Using spacers or adapters can mean that the wheel you are trying to install does not fit your vehicle. This can lead to a poor ride while wearing on suspension parts. Unless you get the advice of a professional, the use of spacers or adapters is often not recommended.
What's the best way to clean my wheels?
Mild soap and water are sufficient for cleaning wheels, but you should avoid spraying cold water on hot tires. While it can be tempting to use stronger cleaners to get rid of grime, these often have harsh abrasives that can lead to surface corrosion. After cleaning, you can apply a non-abrasive wax on chrome-plated wheels.
What is the proper inflations for my tires?
Proper tire inflation can ensure that your tires allow for the best fuel economy. You should frequently check cool tires with an accurate tire pressure gauge to ensure optimum tire performance and maintain the tire pressure level recommended by your vehicle manufacturer on the vehicle placard or in the Owner's Manual.
After buying new wheels, can I use my Original Equipment hardware?
If your new wheels were packaged with hardware, it is recommended that you only use that hardware with your new vehicles. However, you should keep a set of your original lug nuts or bolts in your vehicle in case you ever need to mount your spare wheel and tire.
What Are the Benefits of Aftermarket Wheels?
Aftermarket wheels allow you to change the look of your vehicle for aesthetic purposes. While they allow for greater control of how a car looks, they can also enhance how you drive.
Compared to the original wheels that come with your vehicle, aftermarket wheels often have a reduced weight, which can affect the overall gas mileage and allow you to maintain better control of your car on imperfect roads. Aftermarket wheels can allow for less vibration and a more stable ride.
What Are the Benefits of Performance Tires?
Performance tires can reduce the unsprung weight of your vehicle—or the part of the cabin that is not supported by the vehicle's suspension. Reducing the unsprung weight can affect steering input and improve the turning characteristics of the tire. Installing performance tires can also reduce the weight of the vehicle's rotational mass, which allows for improved acceleration and braking.
How do I Choose the Best Tires for My Vehicle?
Choosing the right tires for your needs and your vehicle can be a difficult decision. There are several factors that should go into your tire choice, which include:
What kind of tires does my vehicle require?
Every vehicle manufacturer will suggest minimum requirements for your model to ensure safety. You should always install tires that meet the required load index. It's also important to consider the speed rating of tires before installing them.
What kind of tires are best for the type of driver I am?
Tires are designed for specific uses and changing the type of tire can influence the way you handle your vehicle. When selecting a tire, it's important to take into consideration how you drive, where you drive, and what terrain you are driving on. A person that mainly drives with cruise control on the highway will want a different tire than someone who drives on unpaved dirt roads every day.
What weather conditions will I be driving in?
Different climates can affect your tires in unique ways. It's important to consider the weather conditions that you will be driving in. For some, all-season tires will allow you to drive in different weather conditions. For others, it's beneficial to consider switching to winter tires for driving on icy roads or purchasing tires that will minimize the potential for losing control of the car when driving in the rain.
What Are the Different Styles of Wheels Available?
This is the most commonly sold aftermarket wheel, as it allows for the most variety in styling, sizes, and finishes. They can be painted, polished, machined, or chrome plated. While the backspace/offsets are fixed in the mold, 1 piece cast aluminum wheels offer a reasonable weight savings over steel and steel/composite wheels.
Also referred to as Billet Wheels, these wheels are made of a rim and a center that are welded together to allow for a variation in the backspace/offset. While finishing is limited to painting, machining, or polishing, these wheels tend to typically be stronger.
3 piece alumni wheels are also known as a Modular wheel. The wheel is made up of a center that is sandwiched between front rim section and a rear section with bolts or rivets securing them together. While styling is limited, the finishing choices are similar to the 1 piece cast aluminum.
Steel wheels have a steel outer/rim and a steel center. Chrome plating and painting are easier to apply on steel wheels.
These wheels consist of a steel rim and a cast aluminum center, cast with steel cleats or inserts on the outer edges. Steel/composite wheels are offered primarily with a chrome plating and offer more possibilities of styling in the center.
Forged wheels have the lightest weight, but the styling options are limited.  Forged wheels can be painted, machined, polished, or chrome plated. Because these wheels tend to have higher tooling and manufacturing costs, the sizes offered may be limited.
These wheels consist of a steel rim and a cast aluminum center, cast with steel cleats or inserts on the outer edges. Steel/composite wheels are offered primarily with a chrome plating and offer more possibilities of styling in the center.
Forged wheels have the lightest weight, but the styling options are limited. Forged wheels can be painted, machined, polished, or chrome plated. Because these wheels tend to have higher tooling and manufacturing costs, the sizes offered may be limited.
What Type of Brake Fluid Should I Use?
There are three types of brake fluid available for use in your vehicle: DOT 3, DOT 3, and DOT 5. DOT 3 and DOT 4 are the preferred brake fluids for high-performance. In any high-performance application, like a race, your braking system will be put to the test by high temperatures from the constant braking. DOT 3 and 4 are available in a wide variety of formulations and performance characteristics. Typically, DOT 3 fluids are less expensive than DOT 4 and don't have the same performance characteristics. DOT 5 brake fluids are silicon based and don't perform well in performance applications due to their expansion and compressibility which will leave your brake pedal soft and spongy. DOT 5 is formulated to not be corrosive which makes it a good fluid for preserving class cars.
How Much Better Will My Braking Be with A Performance Brake Package?
The braking systems that are installed by the factory on most Cars, Trucks, and SUVs typically work well enough for average daily street driving and occasional 60 to 0 stopping. However, if you do any racing events, you will most likely push the stock braking system beyond its capabilities. If you are an aggressive driver, or install any performance parts on your engine, you can also quickly overwhelm factory braking systems. Upgrading to a big brake kit will provide your braking system more stopping power with its larger surface area as well as increased heat capacity which will substantially reduce your braking system fade and caliper distortion. The result will be a firmer pedal through your race or aggressive driving due to stiffer and stronger components as well as better modulation characters.